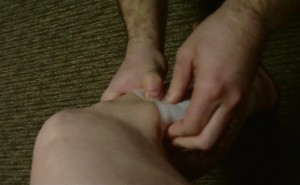 This blog begins my current medical journey now regarding my Right Lower Leg Syndesmotic Instability, Chronic posterior subluxation of my right Proximal (Superior) Tibiofibular (Tib-Fib) joint with deep pain symptoms along the fibula bone of the high ankle a/o sprain along with spasms in the Soleus, Peroneals and Tibialis Posterior muscles especially upon weight-bearing.  This blog picks up in February 2014 while I was concurrently  healing from my last HyProCure Surgery that took place on 2-7-14. See this link for all the HyProCure Surgery and recovery blogs.
Here is my youtube video taken on 2-19-14 with my chiropractor, Dr. Sheldon discussing his findings regarding my right leg. I ask my readers to listen to this video for a good discussion of what this blog is trying to convey regarding Proximal and Distal Tibiofibular Joint Instability/Subluxation and associated symptoms.
Here is my post adjustment discussion right after the prior video. I was a little choked up as I dreaded the thought of walking out of his office and the adjustment not holding to only come back again each week like I had been doing since Sept. 2013:
Prior History – Prior to these videos, my chiropractor had been charting the condition of my right leg since last Sept. 2013. I had suffered what I would describe as an exacerbation (meaning the increase of severity) of my right foot/ankle and right proximal tibiofibular joint on 9/15/13. This happened when I had gone non weight-bearing off of my left leg for the 2nd time last year and I had to put all my standing weight onto my right leg. Please see my blog entitled "My Non-Weight Bearing Life In A Short-Leg Cast" that describes my life at that time. I had suffered a major subluxation of my Navicular bone in my foot along with my proximal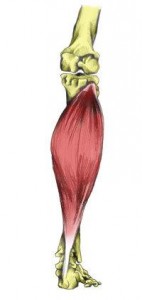 tibiofibular joint as I was excessively pronating down on my arch while standing too much.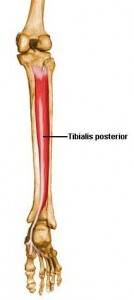 From that day forward, I never returned to what I thought was normal for my right leg. Whatever prior strength I had was now gone. I struggled with exercise of the right leg while reconditioning my left leg after the first HyProCure Surgery as mentioned in the blog entitled, "My HyProCure Surgery-Recovery update week 10-Physical Therapy".  The ligaments were not holding and my fibula bone was shifting along with my navicular bone dropping inferior in my arch. I had pain behind the fibula head and the proximal end of either the soleus and/or posterior tibialis muscles.  The picture on the left of the Soleus has its origin on the posterior surface of the proximal fibula and proximal 2/3 of the posterior tibial surface. The picture on the right of the Tibialis Posterior has its origin on the inner posterior borders of the tibia and fibula.  No wonders I ached in the origin region of these muscles as their connection to my unstable fibula bone probably created muscle trigger points a/o spasms.  It has been my experience with all my joint instabilities as discussed on my website, that the muscles attached to a malaligned joint or unstable joint go into spasm and this is where the real pain has been felt. Stabilize the joint and the muscle spasms and pain go away. What a relief!

See this blog article link written by Swodeam Consulting Inc. about how excessive pronation does contribute to posterior subluxation of the Superior(Proximal) Tibiofibular joint. Hence the 2nd HyProCure Surgery on 2-7-14 to stabilize my subtalar joint/arch of my right foot from the excessive pronation or partial dislocation of the Talotarsal complex of the foot. I had only hoped that by stabilizing my foot, the shifting of the fibula bone would calm down too. Not the case and so here we go again with round #2 on the right leg.  See www.fibularpain.com for all my Prior Proximal Tibiofibular Blogs regarding my left leg last year.
2-24-14 – Thanks to Dr. Gent, www.kitsapfootandankle.com  for ordering MRI's of my right ankle and my right knee since he was closely following my post operative symptoms after his last HyProCure Surgery on my subtalar joint. My current symptoms really had nothing to do with that prior surgery except the fact that my distal fibula was malaligned due to the proximal fibula instability. This malalgined bone was now meeting the ankle mortise with an aligned Talus bone for the first time and this created some horrible pain for me. That is why in the last video above when Dr. Sheldon adjusted the proximal fibula joint, I had temporary relief at the distal end also.
MRI about the right ankle performed on 2/24/14 demonstrated the following impression: subtalar screw is noted to be in place with surrounding metallic artifact. Subcutaneous edema with circumferential distribution surrounding the ankle was noted extending along the dorsum of the midfoot with some edema into the extensor digitorum brevis muscle as well. This is noted to be nonspecific with associated possibility of a muscle strain. Small tibiotalar and subtalar joint effusion were appreciated and accessory soleus is incidentally noted.
MRI about the right knee performed on 2/24/14 demonstrated the following impression: focus of chondromalacia along the medial aspect of the trochlea of the distal femur with underlying marrow edema was noted. Small joint effusion but no additional evidence of internal derangement was identified.
I discussed these findings with Dr. Gent and we basically ruled out any ligament or tendon disruptions both in the ankle and knee. However, ligament laxity doesn't necessarily show up on MRI. And there was no obvious syndesmosis disruption either of the ankle joint yet why so much pain upon walking? It has always been frustrating to me that MRI's or my x-rays really don't show the conditions of what I've dealt with here on my website. Dr. Gent, knowing the success I've had with my left leg, was extremely supportive of my own subjective process regarding now my right leg; however being a foot/ankle surgeon, he was not able to help me surgically in regards to my Proximal Tib-Fib Joint. Dr. Gent went out of his way to discuss with the Arthrex Corporate Sales Representative if he knew of any knee surgeon in the Seattle Vicinity that did the same surgery (see last year's blog w/surgical report) using their TightRope Fixations for the Proximal Tib-Fib Joint. It is common to use the fixations in the ankle but why not the Proximal Tib-Fib joint?  The Arthrex Representative was not aware of this procedure so he wasn't able to help Dr. Gent.
2-25-14 – After MRI, I additionally discussed the findings a/o lack of findings with Dr. Soto (my pain management specialist), Dr. Pearce (Champion Sports Medicine-Spokane) and my Physical Therapist Mark Bengtson, Pinnacle Physical Therapy. Dr. Soto examined my leg and reviewed my chiropractor's videos and concurred that my fibula bone did have some excessive motion. Dr. Pearce's advise was to get on with a fixation just like I had done last year on my left Tib-fib joint. He concurred that the MRI's ruled anything else out and I would do much better after the fixation. He advised that I go back to the surgeon who had done my left tib-fib and not waste time trying to pursue and convince a local or regional surgeon of my need for intervention.  My physical therapist already knew how much I struggled and he agreed that there was nothing more that could be done conservatively at this point. MRI's forwarded to Dr. Main in Missouri.
2-26-14 – Here I am again at Dr. Sheldon's office and his discussion regarding my fibula from hell that will not stay put after many attempts to stabilize it with taping and bracing methods.  Many times I thought this condition would just go away or I must be out of my mind, but Dr. Sheldon reassured me that it was a real problem with this right leg just like it had been for my left leg.  So we made another video showing the excessive motion of the joint again and his request for orthopedic surgical intervention.
3-4-14 – My 2nd physical Therapist, Joanna, at Peak Performance Physical Therapy did a video discussing her findings regarding my fibula. This video is also featured in my blog post entitled, " HyProCure Surgery-My Right Foot-6 weeks Post Surgical Update". I've included the video here again. Joanna felt bad for me and she did all she could to keep my pain levels down by taping and using Ultrasound/TENS therapy along the soft tissue between the anterior fibula and tibia bones.
3-10-14 – I did a Spiritual Journey blog pertaining to the heartache I was going through during this time of diagnosing this right fibula problem. I knew I needed to face another surgery to fix my fibula problem and I wasn't looking forward to it.
3-10-14 – I had a phone appointment with Dr. Main's assistant at Midwest Bone and Joint Center in Macon, MO.  He was the surgeon that did my very successful surgery last year on my left Proximal Tibiofibular Joint. Upon Dr. Main's review of my videos and MRI reports, he agreed to help me again with his surgical expertise and a surgical date of 3/27/14 was agreed upon.
I spent the next two weeks preparing to travel out of state again to Missouri. The hardest task was to find a friend that could travel with me for two weeks as my husband can not leave his self-employed work. Also preparing for another time of non-weight bearing is not fun either. I had to move my home office down to the main floor of our home in order to be more handicap accessible with a wheelchair. With all the crutch walking that I had to do last year, my left arm/elbow was not looking forward to crutches again.  This time the wheelchair was going to be a top priority and avoiding the crutches as much as possible. All the plans and details came together as needed in time to fly off for a wonderful medical vacation so to speak. (It surely wasn't a vacation but a relief trip to end the dysfunction of my right leg. The blessing was being able to see my dear friend Jessica for the first time in 3 years as she was going to accompany me for my surgery.)
3-25-14 – A beautiful day of flying from Lewiston, ID to St. Louis, MO.  My friend Jessica was happy to leave the bitter cold of Lansing, MI and meet me in St. Louis. From there, we then drove together 2 1/2 hours to Moberly, MO and we stayed in the exact same handicap hotel room of the Comfort Inn as last year.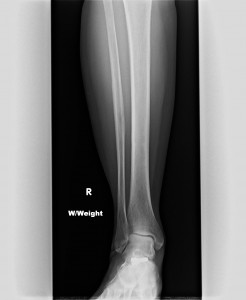 3-26-14 – I walked into Midwest Bone and Joint, Macon, MO and I was well received again by all of Dr. Main's staff. It was as though time had stood still and here I was again for round #2.  I had my Pre-surgery appointment with Kathleen, PA-C, Dr. Main's assistant. She has been well-trained by Dr. Main in hands on examination of this condition for instability of the Proximal Tib-Fib Joint.   Here are my chart note findings: "X-ray images obtained in the office this day about her right ankle (see x-ray on right, click to enlarge) demonstrate evidence of pronation on the weight-bearing AP films. Overall however, the syndesmosis appears to be well aligned as well as ankle mortise with no evidence of fractures or avulsion injuries noted." I passed all the standard orthopedic tests for both my right ankle and right knee except for the following positive objective findings: "Musculoskeletal examination about her right lower extremity demonstrates some trace edema overlying the lateral aspect of her proximal leg articulation with the tib/fib region. She has some trace tenderness to palpation overlying the anterior tib/fib articulation. Examination of the right proximal tib/fib articulation demonstrates evidence of increased mobility of the fibula in relationship to the tibia. External rotation does seem to increase the instability with internal rotation less movement is achieved. Examination today in the office about her right ankle demonstrates her to have some tenderness to palpation overlying the anterior tib/fib ligament distribution as well as along the course of the peroneal tendons. Medial pain is elicited across the distribution of the posterior tibialas region. Cotton squeeze testing does remain positive proximally but appears negative distally at this point. "
These objective findings were not much different than my left leg had last year for which I was turned down by two prior local orthopedic surgeons to have a surgical intervention. If the problem does not show up on x-ray or MRI, some doctors do not believe you have the problem. However,  Dr. Main is adamant that x-ray or MRI's are not his final diagnosis criteria. He truly believes in a thorough hands on approach for this condition and the subjective patient history and symptoms. What my videos showed above is basically what Dr. Main and his assistant could see hands on for themselves.  This is why I traveled back to Missouri to get the help I needed with a surgeon that specializes in the Arthrex TightRope Dynamic Stabilization of the Proximal Tibiofibular Joint with static stabilization using a Bio-absorbable screw. As far as I am concerned through my extensive past research, this surgical method is better than ligament reconstruction or the other old time standard surgeries.
The evening before the surgery I was able to consult again with Dr. Gent, my foot and ankle specialist back in Bremerton, WA,  regarding the x-ray taken above at Dr. Main's office.  I was having some apprehension pertaining to the pronation of my ankle. Dr. Gent  said the subtalar stent he had placed was well aligned in the subtalar joint. He was kind and gracious to reassure me that he was supportive of me and that I was making the right decision to fixate the Proximal Tib-Fib joint.  He agreed that it was hard to tell if the Proximal fixation would also eliminate the ankle pronation, so I agreed to leave it up to Dr. Main's expertise while in surgery regarding any additional Arthrex TightRope's that may or may not be needed to eliminate any additional instability around the ankle. It was important for me to talk to Dr. Gent because if I have any further ankle/foot problems, he would be the closer doctor that I could go to for face-to-face follow up if needed pertaining to my ankle on behalf of Dr. Main.  I believe as a patient it is important to show respect and have a team approach with all my doctors.
My patient to patient advice: Before any operation is needed for your Proximal Tibiofibular Joint whether it be for instability/partial or total dislocation, or associated with a fracture, please read up on all surgical options. It will be a year 5/14/14 since Dr. Main did my Arthrex TightRope Dynamic Stabilization Surgery on my left Proximal Tibiofibular Joint and to me it is a miracle. My left leg has been restored to full function without limitations after 12 years of instability dysfunction. I still have some minor pain at the distal tib-fib high ankle region that I may address in the near future. After all, the dysfunction of the proximal end of the fibula can and does affect the distal end. That along with a prior partial tear of the Anterior Tibiofibular Ligament has left some residual localized/ intermittent pain. But as far as standing on my leg, the alignment and stability coming all the way up into my pelvis is great!

My next blog will be my medical vacation for the right leg surgical procedure performed by Dr. Main, DO Board Certified Orthopedic Surgeon at the Moberly Regional Medical Center. Stay tuned! Or just subscribe to my blog posts in the subscription box located in the right sidebar.