My left foot had healed sufficiently and I then had my pre-surgical appointment with Dr. Gent (see last blog). He is now going to do the same HyProCure Surgery on my right foot. My diagnosis code:  718.37- Recurrent dislocation of joint, ankle and foot; and my Surgical Procedure: 28585 definition: Open treatment of talotarsal joint dislocation, includes internal fixation, when performed.
For all my Subtalar Joint Instability blogs from the beginning on my website please see this link. See this link for the national website on the HyProCure Surgery aka Extra-Osseous TaloTarsal Stabilization. I am adding here a video produced by GraMedica, narrated by Dr. Michael E. Graham, podiatric surgeon and inventor of HyProCure. This video is an excellent animation of why the HyProCure Stent is so important and its far reaching benefits for our entire body alignment.
Friday, February 7th, 2014 – I was at the Pacific Surgery Center, Poulsbo, WA again for this second time around. Please see my HyProCure Surgery Blog pertaining to my left foot for all the surgical pictures as none were taken this time around. However, here is my surgical report:
Rt Foot HyProCure Surgical Rep 2-7-14 pg 1
Rt Foot HyProCure Surgical Rep 2-7-14 pg 2
9:00 am-This surgery went a little faster as Dr. Gent was already familiar with my anatomy and he used the Size 6 HyProCure Stent again just like my left foot. (See this link for Dr. Gent's video demonstration of a sample stent into his foot skeleton.)  I had the same wonderful anesthesiologist, David Bobiak, CRNA from Olympia Anesthesia.
Here is a video of Dr. Gent –www.kitsapfootandankle.com and myself in recovery.
I woke up from surgery very relaxed and happy. My husband said it was only an hour from the time they took me into surgery and the time he could see me again in recovery. Absolutely no nausea and I started drinking and eating right away which is normal for me. I ate a yogurt,health drink, a turkey/salami rollup sandwich and crackers.  I laugh at my own video, Dr. Gent in his best hair net and myself looking like I'd been up all night tossing and turning.  Dr. Gent was sharing in the video that I needed to take it more easy on this foot as getting flexibility back is certainly not my problem.  Compared to my left foot which had been in casts for so long before that surgery, I was able to bear more weight sooner on it. This right foot needed to be held more secure and protected and limited in weight-bearing.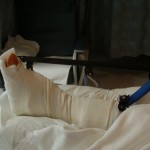 He double splinted my foot both with a posterior splint up the back of my leg and a splint wrapped around arch of my foot to protect medial-lateral movement as well. He wrapped the Breg-PolarCare pad over the surgical cast padding underneath the splints so I could have continuous cooling. I felt no pain whatsoever as Dr. Gent had numbed my foot  very well with local anesthetic injections.
We left the surgical center and went back to our hotel the Best Western Silverdale, WA.  It was a beautiful crisp/cold sunny day. I had the handicapped room just off of the main lobby and the handicap shower worked well since I was non weight bearing off my right foot.  I could just touch it down for stabilizing myself only. The hotel lent me a wheelchair for over night so I didn't have to use my crutches as much. We had a very nice room with a comfortable pillow-top mattress. I had my DryPro Cast cover that fit over my splinted leg as well to be able to shower and not get my leg wet. (See this link for my blog that has a YouTube video demonstration of the DryPro Cast cover.) Below video is taken outside of our room. I wanted to be outside for a little bit before hitting the bed to keep my leg up.
Here is a patient to patient video of me explaining details of leg wrapping and my natural supplementation that I use on a regular basis and specifically after any surgery to keep inflammatory response down in my body. (Here is link to my homepage  for all my medical journey blogs.)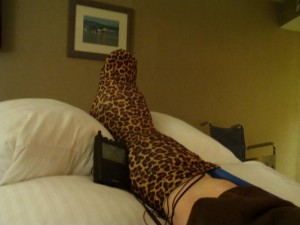 I become like the energizer bunny with a non-stop appetite after all of my surgeries. I put on my Cheetah Print Cast Cover  and by 5pm this day, my husband and I set off for the Olive Garden restaurant a few blocks away and we enjoyed a nice dinner.  We sat in a booth so I could have my leg up and at 6pm I took my first pain pill of the day. I have to admit that I cannot relate to people that get nausea after a surgery. I have never experienced it all with any of the 11 surgeries I've had in my life. Pain pills will not put me to sleep. To calm the post-op energy, I have to take a Diazepam in addition to the pain medication to get a good night's sleep.  The only patient to patient advice I have is: I drink a lot of water and keep my colon detoxed before a surgery.  Any back up in my plumbing would then bring on some nausea in my stomach. I use Therapeutic Grade Essential Oils from my Young Living Oils Company on my body all the time and specifically Peppermint Oil rubbed on my stomach should I feel any nausea whatsoever.
Sunday, February 9th, 2014 – Dr. Gent and I conversed by phone as he does want to know how his surgical patients are doing. He was very pleased with my description of how well I thought I was doing and reminded me to take it easy as he knows I can be an over achiever.
Monday, February 10th, 2014 -My morning started off with an encouraging Skype follow up appointment with orthopedic surgeon Dr. Main, DO in Missouri. He is the surgeon that did my left leg Proximal Tibiofibular Surgery back on 5/14/13. Since my last appointment with him in Sept. 2013, he reviewed my prior blogs and could see the evaluation that Dr. Gent had did on my left foot/lower leg. He was pleased to see that the spasms and hardness of my peroneal tendons/muscles had now calmed down after the left HyProCure Surgery.  These muscles never fully healed after his surgery on my lateral knee/tib-fib joint due to the subtalar joint issues.  I was happy to finally report to him the post op success of his surgery as I never could fully feel the success till after the HyProCure Surgery. There is a definite connection between the subtalar joint issues and the Proximal Tib-Fib joint. He reassured me that if I have any ongoing problems after I've healed in 3 months from my right foot HyProCure Surgery, he would be glad to re-evaluate my right Proximal tib-fib joint chronic subluxation issues. Dr. Gent and I are both hoping that with my subtalar joint stabilization, the chronic stress that has been on my proximal tib-fib joint should now begin to ease down. Time will tell!
In the evening as I write this blog, it has now been 24 hours since my last pain medication and I have not taken any OTC anti-inflammatory medication except my Traumeel Homeopathic. Most of my pain is localized around the surgical site with the pressure increasing with the touch weight bearing. As I keep my leg up on the couch or bed and use my cooling system regularly, I don't feel much except some stiffness of being splinted. I have to use crutches to move around.  I have enjoyed the rest and down time of these past few days and especially the time to write my blogs. I'm thankful for my friend's home to stay in while in Seattle. When I leave Seattle and get back to my life in Idaho, I'll have no choice but to be moving around a lot more due to logistics/business appointments/physical therapy and etc.
I close this blog believing that I will recover well and I will continue to share my story along the path of healing.  My left foot HyProCure Surgery was surely a miracle in addition to my prior Bi-lateral SI Fixation   giving me a firm foundation to stand upon in order now to help my right foot.  My next blog will be after I see Dr. Gent for my 5-day post op follow up appointment. Stay tuned!