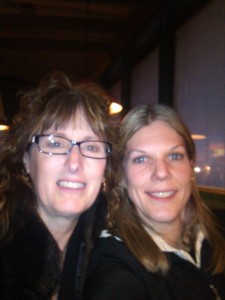 A Special Welcome to those patients that have contacted me via email, phone, Facebook or YouTube. This new section is dedicated to posting your comments and endorsements.
I do take great concern for anyone that has suffering relating to the subjects of concern here on my website: SI-Instability.com   Helping patients during their post surgery rehabilitation process is a great blessing to me.  Every patient I've talked to likes to know that someone else has experienced what they are going through. Needless to say, I've been around the surgical block a few extra times these past 4 full years and I am still attending to more details not yet posted on my website. I've had no choice but to become my own rehab expert both physically and spiritually (see Spiritual Journey).
After emailing and speaking with many patients around this country and as far away as Australia, I was finally able to be with one dear lady from Seattle face to face as featured in the photo. After 18 months of suffering and reviewing my website, she drove 5 hours to come to Spokane to meet with me and my Dr. PZ Pearce of Champion Sports Medicine who understands and can diagnose Sacroiliac Joint Dysfunction Injuries. She left with some hope of improving her situation.
I would like other patients out there to know that it is worth their time to contact me. For those that have already been helped, please visit my contact page to submit your comment/endorsement on our guest feedback form.
To better health and well-being,
Kim-Author  of SI-Instability.com