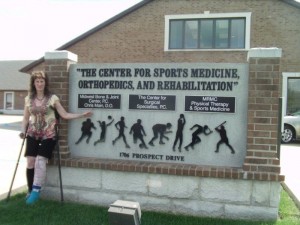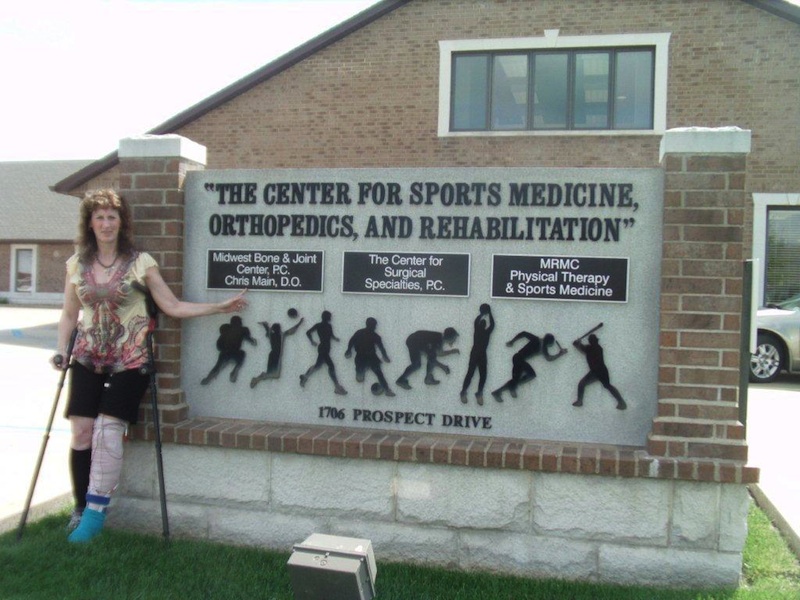 The open reduction and internal fixation of my left proximal tibiofibular syndesmosis dislocation surgical CPT code 27832. The fixation consisted of using 2 Arthrex Knotless TightRopes to  dynamically stabilize the joint as well as a single bioabsorbable screw to statically stabilize the joint.
This is my story while under the surgical care of Dr. D. Christopher Main with Midwest Bone and Joint Center  with 3 offices located  in Macon, Moberly and Kirksville, Missouri. I had originally found Dr. D. Christopher Main, DO through a search on his name from the Internet Scientific Publications Case Study he authored in 2009 on a patient that I identified with in similar chronic symptoms. In doing research for all my surgical options, I also came across this published Elsevier Case Report research article: Dislocation of the proximal tibiofibular joint  A new method of fixation
My story starts with the following video in the hotel room in the morning before leaving for surgery.
Tues. May 14th, 2013 – Here we are going into Moberly Regional Medical Center, Moberly, MO.
Here are the 4 pages of my surgical report: Tib-Fib Surgery Rep Pg 1, Tib-Fib Surgery Rep Pg 2, Tib-Fib Surgery Rep Pg 3, Tib-Fib Surgery Rep Pg 4  Dr. Main came out of surgery and reported to my friend Kelly that everything went well and a key finding was that my fibula head bone was soft due to my chronic condition.
My leg was well wrapped below the knee over the surgical incision in layers of gauze and cast padding followed with a  6-inch ace wrap for my entire leg from my toes to my thigh. I had 4 leads of a TENS unit secured to my leg below the wrap for pain control. I also had a pre-molded ankle/foot brace secured by velcro attached to my foot to help keep the dorsiflexion of my ankle. (This brace was more for supporting my ankle instability while NWB  than necessarily needed for the knee surgery in my case.)  I liked the post-surgical wrap very much and I was so glad that this surgery did not require immobilization in my case.  The wrap was comfortable and controlled the swelling of my entire lower leg and it did not interfere at all with me using a CPM machine to keep motion in my knee after surgery.
Click to enlarge Post procedure X-ray images:
I was under General Anesthesia just slightly over 2 hours, then transferred to the Post-Anesthesia Revovery Unit for an hour and 15 minutes, then moved to a private room for over night observation.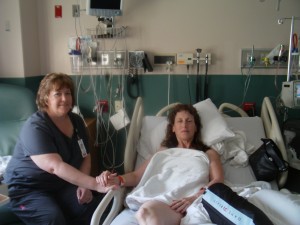 Wed. May 15th, 2013 – Day after surgery with my kind and compassionate day nurse Melissa in ICU(I was given a private ICU room that was available even though I certainly was not a critical care patient) who went the extra mile for me.  She stayed longer the first night after surgery to make sure I was well settled before she turned me over to the night charge nurse. I was blessed to have a visit also by the Chief Nursing Officer and the Assistant CEO of the hospital to make sure everything if at all possible was being down to meet my needs and make me comfortable.  They also made sure my friend staying with me was as comfortable as possible in my room and they personally invited her to a barbeque lunch the hospital was having that day. Hats off to small town hospitality!
Thurs. May 16th, 2013 – 2-days after surgery, hotel room  scenic view and dining out next door to hotel
This is a 48 hours past surgery video update in Holiday Inn Express hotel room laying in bed with my leg in CPM (Continuous Passive Motion) machine.
I also used the machine as a way to keep my leg elevated while having the Game Ready ice cuff around my leg. The Game Ready was one of the best icing methods to use after the surgery. Both machines were provided to me by the doctor's office. Then I rented a CPM machine from The Medcom Group that I found online for my use when I returned back home to Idaho. Joann at The Medcom Group gave me such wonderful and excellent customer service. In my case, I only needed to use the machine for 2 weeks longer in Idaho after using it for the one week in Missouri. I had no problem getting and maintaining my full range of motion.
The pain following this surgery was the most pain I have ever felt of any prior surgery along my medical journey; however, no pain then certainly no gain. Yet I was able to have my last dose of Hydrocodone /Acetaminophen 10/325 by less than 72 hours past my surgery. Per the doctor's orders, all I was focused on was icing, elevation and using the CPM machine for at least 4-6 hours through out the day.
Friday, May 17th, 2013 – This was my first day to get into car and leave hotel area since my surgery.  Early in the morning I had my 3-day follow up appointment with Dr. Main. Then  went for lunch and a wonderful massage thereafter. Besides feeling so good to give a loving touch to my entire body that just went through major stress, I strongly believe  a massage  is absolutely important to help the body detox from all the anesthesia and drugs given.  Even though I started using herbal colon products immediately after surgery and every day since, on this day, I was starting to feel a little nausea from having my plumbing backed up. The solution is to get the Fleet Enema to break the dam loose and get the stream moving again so to speak.  And of course with no more pain pills to stop me up, life was now good!
At my appointment, Dr. Main said my swelling was minimal and I was doing good on my range of motion. Here are my 3-day post operative appointment photos of surgical sites, Click to enlarge photos
The weekend was uneventful.  The highlight of my days in the hotel were deciding where to eat come meal time.  We were blessed to have several restaurant choices next door to the hotel.  Kelly just wheeled me in the wheelchair across the parking lot to the restaurants.
Mon. May 20th, 2013 – Saying Goodbye! I was not having a good day emotionally.  My anxiety level was off the charts. I didn't sleep well the night before as we were under tornado watches in Moberly, MO while other towns in Oklahoma were getting wiped out. I was not in severe pain, but whatever pain level I did have added to my anxiety level. I did not feel like I needed any pain medication.  Before leaving Moberly this day to head back to St. Louis, I saw Dr. Main's PA-Kathleen and Kalen his athletic trainer. They both had been in the operating room with Dr. Main, and they each reassured me that all had gone well. It was an entire day filled with tears.  My main concern at that moment was the post-op nerve pain going down my leg. This was the most annoying part. I truly wondered if I would ever walk again normally and would the nerve pain eventually go away. Having muscle pain or pain at surgical site for me is nothing compared to nerve pain. The best that could be done was to keep swelling down because as the swelling increased, so did the nerve symptoms of burning, or numbness/tingling.
It is my nature not to like to say goodbye to anyone I meet in life. Even more so to those that have helped me. Dr. Main and his entire staff all treated me with great care and respect. My only regret is that I am not a local patient to return if I needed to for his future Sports Medicine conservative care and/or Surgical Intervention. For those of you readers in Central Missouri, hats off to you all in having such a highly skilled Sports Surgeon in your region. Please see Dr. Main's website.
Tues. May 21st, 2013 – Flying Home –After another night of tornado watches while staying at the Hilton by St. Louis Airport, we flew out in the morning with beautiful clear skies on Delta with excellent wheelchair service. I was happy to see the mountains over Salt Lake City, our connecting airport,  on the route back to Lewiston, ID. With all the sitting and not being able to move my knee as much while traveling, I was pleasingly surprised at how well I did. My pain level did not increase at all.  I was glad that we did not fly any sooner than we did after this surgery. I would not have been ready. So for future out of state patients that may seek out Dr. Main for this type of surgery, I highly recommend a full week of recovery before travel. It is costly to have hotel expense, rental cars, airline tickets, meals etc for out of state surgery. But in the end of the day, being delivered from a chronic Proximal Tibiofibular Instability/Dislocation and its associated pain down entire leg along with lateral ankle pain is well worth the trip to Dr. Main who understands the condition and is a willing surgeon to do something about it.
My story continues in the next blog: Proximal Tibiofibular Syndesmosis-Arthrex TightRope Post Surgery Recovery Update #1