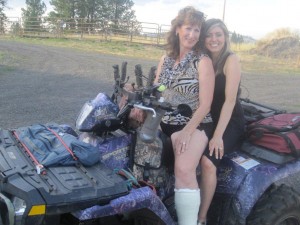 My life in a short-leg fiberglass cast for my left ankle non-displaced Talus fracture continues on from my prior blog here on Sept. 14th, 2013 with  a rare visit of my niece and her husband from Florida.
It was such a beautiful weekend and I could not enjoy my outdoor swimming pool at the ranch since I did not have any way to cover my cast,  and if I did,  how was I going to walk up a ladder to get into the pool when I was now non-weight bearing. So taking a ride on the ATV with my niece was the best I could do to enjoy anything outside. I was still in shock as to my life turning upside down from the week prior to knowing I had a fracture in my Talus bone. Feelings of frustration and repressed anger at how and when did the fracture occur. It was unnerving to say the least. Except for the Grace of God, I had moments of thinking I was going to fall apart as this just simply was too much to bear. I didn't have any pain once I was casted and off of my ankle/foot.  My local foot doctor didn't even insist on the cast because he informed me that the location of this fracture would heal just by staying non-weight bearing. I could have had a walking boot but from my past experience in my prior ankle surgery, I did not want it. I found a walking boot to be heavy and certainly not comfortable to sleep in.  Dr. Gent, however, wanted me to be immobilized in a cast with holding the correct alignment of the Subtalar joint during the Talus bone healing process. So I insisted with my local foot doctor to be in a short-leg cast instead of a walking boot. I did not want anything to hinder my healing process. I wanted my ankle/foot to stay in neutral alignment in a cast; otherwise, I would have pain from muscle spasms trying to hold a joint that slips out of place. From a lot of prior experimentation on my own regarding the subtalar joint instability, I knew my Talus would be out of alignment right away after a chiropractic adjustment. I also had been out of alignment all the time I was non-weight bearing  earlier this year due to my prior  Proximal Tibiofibular Arthrex Fixation Surgery.
Here is a video of me discussing my MRI results and trying to make the best of the situation that I now was in. See my prior blog for MRI images and the PDF of the complete MRI report.
A few weeks went by and I finally found the website: www.castcoverz.com and I was able to get a product to completely seal my cast so I could now swim. DryPro– a wonderful product, so please see the next video demonstration of this product along with my Cheetah print cast cover. I now was enjoying the swimming pool. It was a great change of pace to get back into water.
Since all I could do was either be sitting or walking with crutches or using a knee scooter, I had no way to really burn off energy.  I totally had to give up doing anything with my horse except a few times of taking her out for an ATV ride as seen in the above video.  I had to have a dear friend's daughter move in with me to help in the kitchen, pack my car in and out each week as I travel between staying in two different locations for business.  The stress of  being non-weight bearing off my left foot for the second time in less than 3 months took its toll on my right ankle/foot.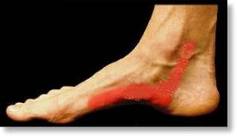 All I can say is I exacerbated my underlying mild hyperpronation to the point of burning symptoms and increased Posterior Tibial Tendon Dysfunction. Here is a Sports Podiatry in UK  website and picture from their site that describes the symptoms and pain. I highly encourage my readers to view their site which has excellent information. Here is link to their home page. I will write more about my right foot and what happens to it in near future once I have finished the journey with my left ankle/foot.
In the meantime, I had to use a ankle walking boot on my right foot to take the pressure off of my foot and support my ankle in order to ambulate. Without this support, my entire lower right leg had pain and the right Proximal Tib-Fib joint was also being negatively affected. This has worried me the entire last 8 weeks as I don't want that joint to be adversely affected like my left Tib-Fib had been before its surgery.  I am a very balanced person yet I fell twice in one day. Once with the crutches and once with the knee scooter.  I jammed my left shoulder and wrist. The chiropractor helped my shoulder immediately and I still am slightly affected in my wrist with walking on crutches.  Since the walking boot was making me unstable due to its rocking motion sole, I resorted to using 3M Soft Cast Casting tape to give my right ankle semi-rigid support and a cast shoe to walk in. I love the 3M soft cast tape as the more layers I apply the more rigid the support; yet, it can be taken off simply by unwrapping and no cast saw needed. Here is my youtube video of me demonstrating the removal of this 3M Soft Cast Casting tape.
I have supply sources for buying the 3M Soft Cast tape. It is not quite as common as the 3M Scotchcast Plus rigid fiberglass casting tape.  You would be surprised at how many doctors have never heard of the product, yet it is used internationally. See my contact page for contacting me regarding further information on my personal use of this product.  I've had to learn on my own what works best for me.  Several ankle braces did not work. I even went out and spent $150 for the New Balance 1540 motion control shoes as recommended by one foot doctor and to this day I'd rather throw them in the garbage as they did nothing to help my foot pain.  In my opinion, there is no real answer except get off of your foot. Well that is easier said than done when you can't get off of the only foot you can walk on. When I am done with my left ankle/foot surgery, then I will consider it for my right foot. It is very common to have both feet done. The www.HyProCure.com surgery addresses the major underlying cause of the secondary symptoms of Posterior Tibial Tendon Dysfunction.
Since I've had so much time to sit around and research, I came across this article that I identify with regarding all of my prior instabilities. See my home page for all my blogs. My physical therapist, Mark Bengtson,MPT is trained in the same research that this article talks about. See the: PRI affiliated research article    "Sagittal Plane Arthrokinematic Tendencies in a Non-­compensated Left AIC Pattern" by Josh Olinick DPT, MS, PRC.  There are so many people I see that have the same compensation patterns. My patient to patient advice is please read the article and take it serious and seek out a trained Postural Restoration Institute trained Physical Therapist that looks at your entire biomechanics in solving your pain manifestations.  The following two articles by Dynamic Chiropractic, a great online resource also,  can give my readers some insight into what my Dr. Sheldon, DC has been doing for adjusting my left foot prior to being in a cast and what he is now currently doing in trying to maintain my right foot along the way.
Dynamicchiropractic.com-Manipulation of the Ankle and Foot
Techniques of Foot Manipulation–Part II
By reading the beginning of this second article, I was able to identify and be able to speak more clearly and adamantly to my various foot doctors in describing what my condition was per my chiropractor's findings and his adjustments. I had to get to my 4th foot doctor before I felt that I was validated on my own subjective history and the findings of my chiropractor. Dr. Gent of Kitsap Foot and Ankle Clinic in Bremerton, WA is my 4th doctor and I did not have to convince him. It was like my ship came ashore and words cannot describe the relief I have felt in finally finding a doctor that could offer an intervention(see prior blog) for my chronic situation.
Over the course of these past 8 weeks of non-weight bearing, I've had 4 casts. The first two were too loose and my ankle alignment was not maintained and the cast felt like a heavy weight on my foot. My foot was extremely swollen when these casts were taken off because I never felt the casts get too tight to know that I needed to elevate my foot. I am partially to blame because I had wanted extra padding to protect my sensitive Superficial Peroneal Nerve down my lateral ankle. Well too much padding does compress and the cast becomes looser. Then at the 4-week mark, I had the 2nd cast removed and a posterior splint made to help me in the interim till I was readjusted/aligned by my chiropractor. In this interim, I enjoyed soaking my leg in the bathtub in preparation to be re-casted. I was just very careful to not put any weight on the foot whatsoever.  I consulted an orthopedic certified casting technician-medical assistant friend and she showed me how the cast should be done and then I requested that the foot doctor do it the same way. Dr. Brockbank, my local foot doctor in Spokane,  is a kind and gracious foot doctor and I thanked him for my last 2 casts that felt wonderful, not heavy on my foot and yet extremely correct in holding my Talus and Calcaneus bones in neutral keeping the Subtalar joint locked in place.  There truly is an art to making a correct  yet comfortable cast. The key for my situation was to wrap the first roll of 3″casting tape only around the ankle  to lock in the Subtalar joint/Calcaneus and Talus and then mold it around the ankle bones before applying the next rolls of tape. Then the next 2 rolls of 3″cast tape created the rest of the short-leg cast from my toes and up my leg, followed by 4″ cast tape to finish off entire cast in my black color choice.
My alignment was maintained much better during the last 4 weeks as evidenced on my CT Scan done exactly on the 8th week of non-weight bearing. The report is herein attached and the image on right(Click image to enlarge)  is referenced in the report:
CT Scan Left Ankle 11-5-13 pg 1
CT Scan Left Ankle 11-5-13 pg 2
Nov. 6th, 2013 – Here I am sharing a youtube video update on the successful healing of my non-displaced Talus Fracture and my last cast. I am very grateful for the cast changes along the way as I never had any discomfort of itching. The only set back  was I could not go all day without a lot of elevation of my leg or I paid the price of a too tight cast from the swelling. As long as I elevated my leg while watching TV before going to bed, I could sleep comfortably without any elevation of my leg during the night. I wanted to add that I did extra supplementation along the course of these past 8 weeks, acupuncture to keep my meridian flow boosted and I had weekly appointments on the BEMER Technology that increases Micro-circulation and helps speed up the healing process.
Per the request of the surgeon, Dr. Gent, I am remaining in a cast even though the fracture is healed till I get to him in Bremerton, WA . He wants my ligaments to be held and alignment maintained until he does the minimally invasive Extra-osseous TaloTarsal Stabilization-the HyProCure Surgery.  This surgical procedure is to stabilize the excessive motion of my Subtalar joint which has been the underlying problem well before the fracture. See my prior blogs for more discussion on this surgical consideration. I'm looking forward to the Nov. 15th surgery date. See my next blog on my last appointments and final check by my chiropractor of my talus alignment before leaving for the HyProCure Surgery.
To avoid wondering when I post again, please just subscribe to this blog (right sidebar) to receive automatic updates whenever I post a blog story about my medical and spiritual journey.