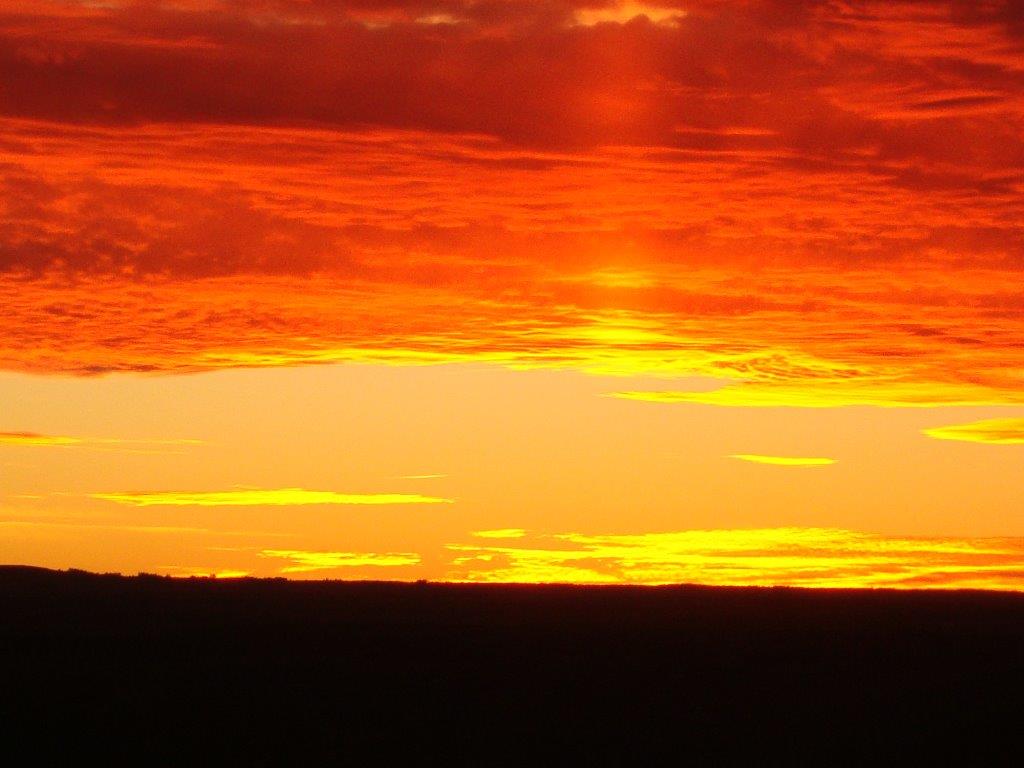 Looking from my home off into a winter sky filled with such a spectacular sunset helps me to know and believe that God has a greater plan for my life than what has burdened my heart and weighed me down in my medical journey during this last month.  The inspiration for this blog actually comes from a fellow Christian who works with my medical insurance.  When I was in the worst moments of discouragement and feeling hopeless, he had encouraged me to read Psalm 139 and specifically vs. 9-10. A part of the verse (NIV Bible version) is quoted in the blog title. For me, my medical journey is very much my spiritual journey as God cares about every detail of our lives.  Below is the Psalm with my bold emphasis on some verses.
Psalm 139 (The Message Bible Version) A David Psalm
Verses 1-6: God, investigate my life; get all the facts firsthand.
I'm an open book to you; even from a distance, you know what I'm thinking.
You know when I leave and when I get back; I'm never out of your sight.
You know everything I'm going to say before I start the first sentence.
I look behind me and you're there, then up ahead and you're there, too—
your reassuring presence, coming and going.
This is too much, too wonderful—I can't take it all in!
Verses 7-12: Is there anyplace I can go to avoid your Spirit? to be out of your sight?
If I climb to the sky, you're there! If I go underground, you're there!
If I flew on morning's wings to the far western horizon,
You'd find me in a minute—you're already there waiting!
Then I said to myself, "Oh, he even sees me in the dark!
At night I'm immersed in the light!" It's a fact: darkness isn't dark to you;
night and day, darkness and light, they're all the same to you.
Verses 13-16: Oh yes, you shaped me first inside, then out;
you formed me in my mother's womb.
I thank you, High God—you're breathtaking!
Body and soul, I am marvelously made!
I worship in adoration—what a creation!
You know me inside and out, you know every bone in my body;
You know exactly how I was made, bit by bit,
how I was sculpted from nothing into something.
Like an open book, you watched me grow from conception to birth;
all the stages of my life were spread out before you,
The days of my life all prepared before I'd even lived one day.
Verses 17-22: Your thoughts—how rare, how beautiful!
God, I'll never comprehend them!
I couldn't even begin to count them—any more than I could count the sand of the sea.
Oh, let me rise in the morning and live always with you!
And please, God, do away with wickedness for good!
And you murderers—out of here!—
all the men and women who belittle you, God, infatuated with cheap god-imitations.
See how I hate those who hate you, God,
see how I loathe all this godless arrogance;
I hate it with pure, unadulterated hatred.
Your enemies are my enemies!
Verses 23-24: Investigate my life, O God, find out everything about me;
Cross-examine and test me, get a clear picture of what I'm about;
See for yourself whether I've done anything wrong—
then guide me on the road to eternal life.

During the time frame of February 12th, 2014 to the end of the month, I was happy to have finished my 2nd HyProCure Surgery on my right foot; however, I agonized and wrestled with the idea that another surgery requiring non-weight bearing for 6 weeks still was needed to fix my right proximal tibiofibular joint dysfunction. I truly had wanted to be done and get on with life. The emotional, physical, and financial stress has all but sent me over the edge.  Three weeks of anxiety and feeling sick to my stomach has been too much.  As God's peace has now calmed the anxiety, I now have been able to sit down and write my blogs.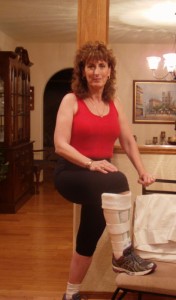 The verses in bold type above were well meditated upon. Through trial and error in trying different methods of stabilization of my lower right leg/ankle over the past several weeks, I settled in on using an Aircast leg brace on my leg. With the brace, the leg/fibula was much happier and the swelling would go down around my distal fibula/ankle.  As soon as I took it off and tried walking without it, the symptoms of the joint instability would start manifesting. Muscle pain/spasm is our body's defense to hold a loose joint.  As the scripture above speaks of Him knowing every bone of our body, I was able to take comfort that He was right beside me in this journey and that He was well aware of every cry of my heart for answers/ diagnosis/ help/direction.  I spent the last weeks consulting with my team of doctors to have a consensus of opinion regarding my ongoing pain. The fibula bone is not happy being out of its intended groove (dislocation/chronic posterior subluxation) and its cry for stability has been so noted. All conservative measures have been exhausted. So the advice given to me was to get on with getting it stabilized just like the left leg had been done in its prior surgery on 5/14/13. (Link to www.fibularpain.com blogs)
Through out the past weeks, I enjoyed all the daily devotions from the book, "Jesus Calling" by Sarah Young. Even though February 29 is not on this year's calender, that day's devotion was so appropriate for my situation. This devotion based on Psalm 119:105; John 21:22 is herein quoted: "YOU ARE ON THE RIGHT PATH. Listen more to Me, and less to your doubts. I am leading you along the way I designed just for you. Therefore, it is a lonely way, humanly speaking.  But I go before you as well as alongside you, so  you are never alone. Do not expect anyone to understand fully My ways with you, any more than you can comprehend My dealings with others. I am revealing to you the path of Life day by day, and moment by moment. As I said to My disciple Peter, so I repeat to you: Follow Me."
I take comfort in the words of the devotion above. It calms all my frustration, anger, and resentment when my husband thinks I'm a hypochondriac. He went to the chiropractor with me on 2-14-14 (see this recent blog) and he could finally see with his own eyes the proof of the bone moving too much. This condition was not in my head and when I write my next medical blog there will be video proof with my chiropractor.  I had already spent 10 years trying to ignore so many symptoms in my left leg till I ended up on this medical journey.  I sincerely have proven the hypochondriac notion to be a false notion. Just take a look at the recent  prior blog of me exercising my left leg. Hallelujah! I'm on the mend. I have been climbing out of my personal physical hell hole.
I know many of my friends are weary in thinking, "when will I ever be done". Some of those that have medical training are the most understanding. They know I am well researched and well tuned into what my body is trying to say is the problem. They support me in prayer to make sure I get the right medical help, healing, and safety in travel etc. Together with them, I have seen the mountain of adversity taken away. To God be the Glory!
I close this blog with saying, "Never give up! Follow the cry of your heart and listen closely to the still small voice. Ask God to direct your steps into the hands of the right medical professionals that will come alongside and desire to help with sorting out your pain symptoms with their expertise." I've created this website for the sole purpose of helping others with joint instabilities/partial dislocations get the help they need. See my contact page as I am available and desire to share patient to patient advice anytime.
A Special Creation–"…your right hand will hold me fast"  Thank you God for holding me spiritually and emotionally and for my team of medical professionals that have held my physical hand so to speak in this journey. I am so grateful for their support.  A special thanks to Dr. Gent  at www.kitsapfootandankle.com for going the extra mile in his post operative care and concern with my last two HyProCure Surgeries that have now given me a firm foundation in my feet to stand upon. I'm looking forward to the help of Dr. Main, DO-Orthopedic Surgeon at www.midwestboneandjoint.com with his surgical expertise on the Proximal Tibiofibular Joint.  May all your lives receive a blessing in return for helping me!
Stay tuned to my ongoing medical blog updates at my homepage.