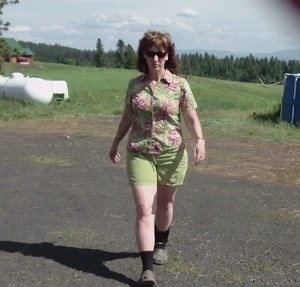 Monday, April 28, 2014 – On this day, Dr. Main and I had my first Skype follow up appointment. He was pleased with my healing thus far and he decided to offer me to be his test case in allowing full weight bearing on my right leg as tolerated with the aid of crutches about 2 weeks sooner than he normally would  allow.  He felt that my fibula bone was more stable with both the Proximal and Distal Tibiofibular (Tib-Fib) Syndesmosis Arthrex TightRope fixations this time around. Last year I was only fixated at the proximal end of the fibula.

At first I was a little in shock as I was expecting another whole week of being in the wheelchair and it took a moment to realize that he was serious in allowing me to put my right leg down and take full weight as tolerated through the entire leg. As I mentioned in my last blog, my left ankle was suffering with carrying all my body weight on it while being off my right leg. It was a blessing to me for Dr. Main to allow this change and I could now get out of the wheelchair more by using my right leg now too.
Even though I was happy to have this opportunity to walk sooner, I certainly was not prepared whatsoever because I had not done any partial weight bearing first nor did I have any pool time for aqua therapy this time around as compared to last year's post surgical recovery. (See www.fibularpain.com for all my prior blogs)  I went from basically having no pain while being in the wheelchair to horrific pain trying to walk on my right leg even with the crutches. Along with 2 physical therapy appointments, I spent each day of this 5th week trying harder and harder to now have weight on my leg. I had this wild idea that somehow I would be walking pretty good by the end of the week. After all I had hardly no post surgery pain compared to my left leg, so I just taught it also would be easier to walk on this leg sooner too. Yeah right! Who was I kidding. You just don't get up and walk after being in a wheelchair from surgery and think all will be well.
May 3, 21014 – At a horse training clinic, I had my right leg heavily ace wrapped from my foot to just below my knee for support and compression. I had to do a lot of walking back and forth with the crutches from our trailer to the arena. I put up with terrible pressure and some sharp pain below my knee. I was happy when the clinic day was over so I could get back to the hotel in the evening just so I could do some infrared heat, massage, and elevation and then icing to my leg.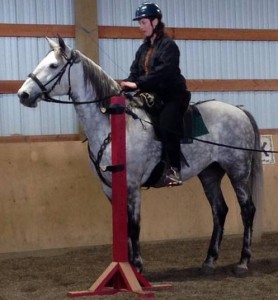 Sunday May 4th, 2014 – At the second day of the clinic weekend, my leg started out very sore from the extra walking I did the day before. Even if I had brought the wheelchair, it wouldn't have worked on the heavily graveled driveway. I had no choice but to walk with the crutches. Finally I just said, "I'd had enough watching and I was going to participate and get on my horse, ready or not here I come." I had not been on her since the end of January 2014 between my prior HyProCure Subtalar Joint Surgeries.  My trainer had already warmed her up and I hobbled over to the mounting block and he lifted me up into the saddle. I sat there a moment to see what my leg was feeling like and I decided it hurt less being in the stirrup than walking on it.  So I walked "Jewels" for a little bit to check my leg strength and cues against her sides. A few moments later and here I am in my YouTube Video which I titled "Do It Right" which is the name of the YouTube musical soundtrack I added to my video.
Having a total of 15-20 minutes in the saddle gave me such a hope and renewed strength to press forward for the 8th time in rehabilitation pertaining to my legs. All the ladies watching the clinic were impressed at my ability to ride when I could barely walk. They were happy for me in the moment and so was I. I dreaded the thought of getting off of my horse and feeling the pain of walking again on my leg. We had a 5 hour ride back home that night and I spent the next day and a half on my bed doing alternating infrared heat and ice.
Wed. 5-7-14 – Traveling again back to Spokane for a followup appointment with my local Dr. PZ Pearce, Champion Sports Medicine and physical therapy. Dr. Pearce was happy to see me standing for first time since before my surgery. He encouraged me to work hard at my physical therapy and he would see me again in 3-4 weeks. Even though I was miserable, my physical therapist, Mark Bengtson was also pleased to see me now walking some with the aid of crutches. He did his usual Postural Restoration Institute style of exercises to get my pelvis/hips activated. See this prior blog link for video examples of these exercises.  He promised me that working on strengthening the pelvis/hips would directly aid in taking compensatory pressure off of my soft tissues surrounding my knee while walking. Mark worked more on my upper leg/pelvis while my 2nd physical therapist Joanna Alford at Peak Performance in Lewiston focused more on localized therapy/exercise for my lower leg and ankle.  Between the 2 therapists, I had the entire leg being addressed which worked well for me.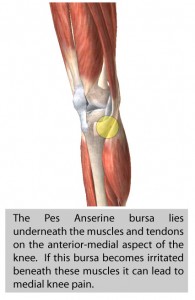 Mon. 5-12-14 -I was having some sharp pain below the medial side of my knee radiating out from where the fixations were anchored in my medial tibia bone. The picture on the right (click photo to enlarge) shows an area of some major pain I was having.  I was desperate for something locally that would help and Dr. Main's office ordered me the prescription anti-inflammatory gel called Voltaren to rub in 4 times a day.  This did help to calm down my soreness over the next week.  I don't like what I feel like when I've taken internal anti-inflammatory medication beyond a day or two and I certainly was not going to take a  Hydrocodone. From 3 days after surgery till now, I have not taken any medications except for an intermittent 5mg Diazepam for muscle spasms a/o anxiety. I subscribe to more natural therapy for pain control especially Wintergreen and Clove Essential Oils, icing, infrared heat to increase circulation, Arnica Homeopathic Drops; however, I was grateful for the Voltaren Gel to help me with the pain I was feeling around my medial knee from the walking.
May 14th, 2014 – A wonderful phone appointment with Dr. Gent, Kitsap Foot and Ankle Clinic,  regarding my left ankle pain and a followup to my prior HyProCure Surgery on my right Subtalar joint. I told Dr. Gent that Dr. Main had ordered me a Breg Ultra CTS High Ankle Brace to help me in the meantime in supporting my left distal tib-fib/high ankle instability.  Dr. Gent reviewed all the right ankle x-rays taken by Dr. Main's office that were posted on my Arthrex Surgical Blog. He concurred that Dr. Main had done a fine job in securing my right distal tib-fib joint. Along with Dr. Main, Dr. Gent is also experienced in Ankle Arthrex Surgical Procedures and he would be happy to help me by offering his surgical skill to my left ankle/ distal tib-fib syndesmosis instability in the near future once I have full strength and healing from my current right leg surgery.   I'm very pleased and I highly recommend Dr. Main's surgical skill; however for me, going back to Dr. Gent in the Seattle Vicinity is so much closer than traveling to Missouri. It is common for Foot and Ankle specialists to use Arthrex in the ankle syndesmosis; however, in regards to the Proximal Tib-Fib surgery, Dr. Main specializes in doing Arthrex TightRope Fixation Surgery for isolated chronic joint instability not associated with a fracture or other knee pathology. For new viewers of my website, please refer to www.fibularpain.com for all the prior blogs and details on how I found Dr. Main in Missouri.
Wed. 5-21-14 – At my chiropractor's office , Dr. Sheldon made the following video of me in his office.  This is the 8-week post surgical point of recovery. It had been 3 weeks since he last saw me, and he could see how well I was progressing from the first few days of walking till now.  I was able to wear a Merrell Brand of summer shoes as seen in the below video.  I hate tennis shoes on hot days. One day I hope to wear more sandals.
Mon. May 26th, 2014 – This day is the second time for getting on my horse.  My horse trainer still had to lift me up into the saddle as my right leg did not have the strength to push myself up off of the mounting block. I had less pain in lower leg than my prior riding time as mentioned above in blog; however, the change in my entire leg bio-mechanics is still something that I need a lot of work with while in the saddle. About 15 minutes in the saddle at the walk with some trot but I am way too weak to ride a canter stride at this point. I also was helped back off of the horse to prevent landing too hard on my weak right leg.
May 27th, 2014 – Another good work out with P/T Mark-Pinnacle Physical Therapy in Post Falls, ID with concentration on getting neutral pelvic/hip stability to help my walking gait. He could see some improvement from the prior week.
May 28th, 2014 – My first time to really get into a pool and do some exercise. It did not feel that much better, but the hot tube afterwards was relaxing.  At this point I think some of my pain is from my muscle tightness after walking. I was able to walk better out of the athletic club after the hot tub.
Thursday, 5-29-14 – This is exactly 9 weeks since my surgery and 4  1/2 weeks of working at the walking.  Here is a video of me on the Pilates Allegro machine with my Physical Therapist Joanna describing how my knee wants to fall in when I push through my leg.
She does see me slowly getting strength to maintain a correct neutral position while pressing through the leg as compared with a few weeks earlier.  At this point, I can do most isolated ROM exercises without any knee pain and I can ride the incumbent bike for 11 minutes without pain; however, depending on how my foot hits the ground and/or position of my pelvis/thigh in a walking stride,  will determine if I get greater pain when walking. Here is my Physical Therapist's Chart Note Assessments: "Posterior tibialis on the right is atrophied and lacks full ankle and mid foot inversion during gait with compensatory hip IR and adduction.  TTP over proximal posterior tibialis.  All activities focused on posterior tibialis work with a neutral knee and hip. Difficult activating right hip abductors, external rotators with weight bearing. Challenged by post tib isolation activities and needs frequent cuing to avoid compensation. Patient demonstrates improved ROM and strength with a decrease in pain following treatment. "
May 30th, 2014 – Acupuncture and deep massage therapy for my leg this day.
June 1st, 2014 – A beautiful sunny day and I was able to stand at church to lead music for the first time in many months. Then I made the below video so Dr. Main could see me walking in preparation for my next Skype followup appointment.
Summary:
After viewing the video of myself, I feel that my walking gait is not balanced yet whatsoever.   I am still very weak in my right hip flexors, glutes , hamstrings and other muscles that connect to my knee.  My pain level is definitely improved around my medial knee.  I have tightness around my lateral knee and some soreness where the Patella tendon connects to the anterior part of my tibia bone.  No pain over the surgical scar by fibula bone. I get very tight when walking in the proximal calf muscles below the back of the knee. My ankle seems to be doing fairly well with the Arthrex and I will say that I'm glad I have it or I would feel very unstable.  In this 9 weeks of time since surgery, my ankle flexibility has come right back but without the pain of the unstable distal tib-fib articulation. Also it doesn't even feel like I ever had my prior HyProCure Surgery except for the benefits of a stable arch without pain.

With standing in general, I feel more centered and balanced with my Subtalar HyProCure Stent, my ankle  Arthrex TightRope and my proximal tib-fib Arthrex TightRope fixations. I've made it this far with a lot of prayer to comfort my tears and heartache along the way of learning to walk again and eliminate pain. Now that my bones are all in neutral, it is my goal to finally increase strength for my entire leg and pelvis. I'm looking forward to getting in my own pool here very soon as the weather starts to warm it up. I will slowly increase my time in the saddle as long as I have help for safety sake. I'm already starting to walk a few steps on slopping ground as tolerated. I'm also just starting to do more stairs using my right leg equally with my left leg. Going up the stairs requires more strength and coming down requires more flexibility and stability at my knee. 
A special thanks to both Dr. Main and to Dr. Gent for giving me stability in my proximal and distal tibiofibular joints and my subtalar joints. I now have a foundation to stand and build upon in reconditioning my muscles to further enhance the stability of what my Sacroiliac Joint Surgery had already started giving me over a year ago.
Prayers for continued healing are always greatly appreciated. Comments are welcomed through my email link on my contact page.  Stay tuned by subscribing to my blog updates either below or in the right sidebar of this web page. Link to my next blog update #3