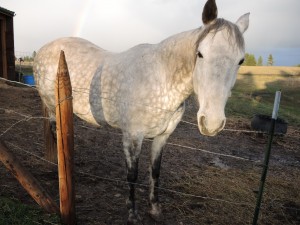 4-4-14-What a whirlwind of a medical trip to Missouri and back these past 10 days. Now at a week past my right leg Proximal and Distal Tibiofibular (Tib-Fib) Arthrex Tightrope Dynamic Stabilization Surgery to end the instability of the joints, I was greeted at my ranch home by my sweet mare called "Jewels". (click to enlarge photo)
4-8-14 – I saw my Dr. PZ Pearce, Champion Sports Medicine in Spokane to check my surgical incisions. There were no stitches to remove. I also had my first physical therapy appointment with Mark Bengtson, MPT.
4-9-14 – I saw Dr. Sheldon, DC for him to now see my non-subluxing right leg fibula bone. He has taken care of me for over a year now. Without his expertise in extremity adjustments, I would not have had the knowledge and chart note records of my chronic subluxing Proximal (Superior) Tib-Fib joints of both legs. This instability created pain all along the fibula bone and in associated muscles that attached to the fibula. Here is my Youtube video discussion with Dr. Sheldon showing my leg at 2 weeks since my surgery with Dr. Main-Midwest Bone and Joint Center, Macon, MO.
From 4-11 through 4-21-14  – I spent this entire time at my ranch home without leaving.  This is rare as I normally travel weekly to my 2nd home 75 miles each way.  I was able to have my massage therapist, Julie come 3 times in lieu of me traveling to go to physical therapy.  She worked on all the muscles of my right lower leg along with keeping the rest of my body tuned up from the stress of walking on crutches or using my arms to move the wheelchair.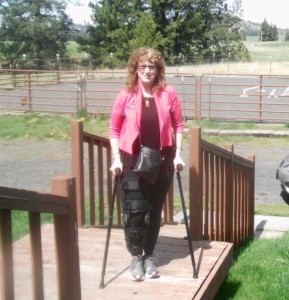 4-20-14 – Easter Sunday, a photo taken here just 3 weeks past my surgery going up the front steps to get into my house. Feeling hopeful to complete another 3 weeks of this NWB lifestyle.  NWB is very difficult to deal with when you have to constantly ask for help with everything in your daily life. Besides your mind, it can take its toll on the rest of  your body too.
4-22-14 -I saw my physical therapist again and he was pleased at the excellent work my massage therapist Julie had done for my leg muscles in freeing up spasms. He thought I was doing great and he started me on a little bit of peddling on a bike mainly pushing through my left leg and allowing my right leg to follow along with very little pressure to my right foot.  At this point I was so far ahead of my comparative recovery from last year's same surgery. I've had no nerve pain whatsoever and no spasms like I had in my left leg.
4-24-14 – A followup appointment with Dr. Alm my local DPM. After coming home the other day from Physical Therapy and with only walking a little bit more with the crutches, I felt like I had a major setback with my left ankle from bearing all my weight onto it while being off of my right leg. Pain sensations had slowly been increasing ever since I had my surgery and by this date I felt like it was more of a problem than my surgical leg. This setback was not my subtalar joint but my high ankle-distal-tib-fib syndesmosis region.  This area was not fixated like my right ankle that had just been done in this surgery. Last year I wasn't showing a looseness of my high ankle due to the chronic Talus malalignment and guarding spasms; therefore, no Arthrex was put into the ankle only the proximal tib-fib at that time.  So Dr. Alm examined my ankle and his findings: "Examination of left foot and ankle reveals she is tender over the tib-fib inferior syndesmosis, she has mild pain over the anterior talofibular ligament as expected from her HyProCure procedure. She has good corrected range of motion at the subtalar joint with about 5 degrees of pronation present." His assistant taped my ankle to see how I would do with that for the moment and he hoped it would start to feel better once I was fully weight-bearing in 2 weeks to come. My Lewiston physical therapist, Joanna, also had done an exam this day on my left ankle and she did some modalities of Ultrasound/heat to break up the spasms in my leg muscles that were guarding the instability of the distal-tib/fib joint complex.
4-28-14 –  A great joy to see Dr. Main for the first time since leaving Missouri by our Skype computer follow up appointment. At 4 and 1/2 weeks since surgery,  I was happy to report to him that so far the post-op recovery had been so much easier than last year. Since I had Arthrex TightRopes in both my right Proximal and Distal Tib-Fib joints, Dr. Main wanted me to be a test case so to speak. He wanted me to start weight bearing activities on my right leg as tolerated with the use of crutches two weeks sooner than originally planned. He said I was demonstrating very good functional ROM across the knee and the ankle. I was pleasingly surprised and apprehensive at the same time.  I hadn't been able to do as much preparation for walking like I had last year by doing pool therapy, but I was certainly willing, of course, to get out of the wheelchair sooner than later if Dr. Main said so.
I shared with Dr. Main the details of what my left ankle had been feeling like after I've had to be NWB for over 4 weeks so far. Dr. Main showed great concern for my left distal tib/fib syndesmosis. He ordered me a BREG Ultra CTS Syndesmotic Ankle Brace to help protect the high ankle. I told Dr. Main that it wasn't my desire to have to undergo another surgery to put Arthrex in my left ankle like he had just done on my right ankle. Yet, knowing what my ankle was feeling like compared to my stabilized right ankle made me think that conservative measures will probably not work in the long run and I wanted to keep my options open. I was very scared at the feelings in my left ankle. By now all the ankle stiffness of my prior leg castings and the HyProCure Surgery on 11-15-13 has given way to constant feelings of instability of the high ankle only and not the subtalar joint with soreness and localized Superficial Peroneal Nerve zingers if my ankle twists or plantar flexes too much.  Any movement beyond a limited ROM or a wrong position at night can set off symptoms. Minor Instability between the distal fibula and tibia can be very frustrating. At this point I've been dealing with this left ankle for over 3 years straight getting to the root of the issues. I've taken care of both joints; that is, the one above (proximal tib-fib) and the one below (subtalar joint) the ankle. Now time will only tell what happens next to my left ankle. I'm giving it my best conservative effort to stabilize and help it heal while I keep my attention on my right leg that needs a lot of rehabilitation to gain strength.
I close this blog with apprehension yet hope for the next weeks to unfold as I begin my weight-bearing post surgical recovery process from my Arthrex TightRope Dynamic Stabilization of both my Proximal and Distal Tibiofibular (tib-Fib) Joints. Stay tuned!
Here is link to next blog recovery update.