From my last blog post, I am now updating again my continued excellent recovery from my Proximal and Distal Arthrex TightRope Dynamic Syndesmosis Stabilization Surgery of my Fibula Bone by my orthopedic surgeon, Dr. Main of Midwest Bone and Joint Center, Macon, Missouri.  Dr. Main reviewed my last blog and I had a Skype appointment with him on 6/6/14. Even though I felt discouraged and wished I was farther along, Dr. Main's encouragement that I was on track and that he had no doubt that I would continue to improve over the next few weeks was enough to keep me motivated.  I was a test case for him in that I was his first patient to have both the proximal and distal tib-fib joints fixated at the same time. This made the rehabilitation harder than the proximal fixation only as he did last year on my left leg. So I continued to work hard at my physical therapy, massage therapy to increase my strength and decrease pain upon walking. I had to work through gaining more tibia internal rotation while my femur stayed neutral and I worked on the bending of my big toe in order to push off of my foot better. I still need more Glute strength but its coming along. The hard work did pay off in time for me to be prepared enough to have a horse training clinic on my property.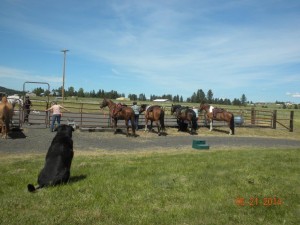 6/21/14 – At 12 weeks since my surgery, I was able to participate in a horse riding clinic held for the first time on my property.  It was such a joy to see all the horses and people.  I did improve my walking but was still shaky in pushing off of my right leg to mount my horse.  Friends brought me a higher mounting block and that did help. Once I was in the saddle, I could almost forget that I had ever had surgery. Getting off and landing on my legs had to be taken slowly and I definitely had to make sure I had a good bend to my knees when landing.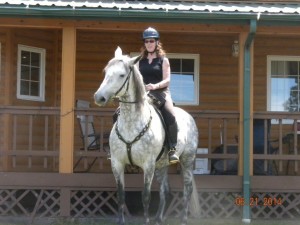 My horse is 16 Hands tall which makes the landing a little more difficult.  I spent well over an hour for several days on the back of my horse "Jewels" as pictured here.  The constant bending of my right ankle was not affected at all by the Arthrex TightRope in my ankle; nor did the fixations anchored into my bone give me any irritation in my riding boots.
6/26/14 -After the wonderful weekend, I had to travel to Bremerton outside of Seattle to see Dr. Gent at Kitsap Foot and Ankle Clinic.  Since I last saw Dr. Gent on 2-12-14, he was very curious to see how I was now doing since his HyProCure surgery on my Subtalar Joint and then my Proximal and Distal Tibiofibular Surgery on 3-27-14 by Dr. Main. He was so pleased to see the alignment of my entire right leg from the Subtalar Joint all the way up to my hip. He could see the tremendous difference I now had as compared to January of this year before any surgeries had been done on my right leg.  Up to this point all surgery had been done on either my SI Joints or my left lower leg. Please see my homepage for my entire medical journey blogs.
The main reason to see Dr. Gent was to follow up on my left ankle. Dr. Main had already provided me the best high ankle sprain brace possible to control the instability of my high ankle and distal tibiofibular joint; however, I was not getting any better. Dr. Main had already expressed concern that I not let this situation go on as we both did not want my proximal (upper) end of the fibula bone where his prior surgery had been done to be negatively affected by the instability of the distal (lower) end of the bone. My left ankle instability was not fully manifesting last year when Dr. Main had did surgery on my proximal (lateral knee area) tibiofibular joint. (See www.fibularpain.com for all prior blogs on this subject) But once my subtalar joint was stabilized in my first HyProCure Surgery on 11-15-14 and my Talus Bone was no longer subluxing out of neutral position, the rest of the ankle symptoms came to light. Especially during my 3rd week of non-weight bearing off of my right leg with full weight into my left ankle, the left ankle became extremely sore and sensitive to a higher degree than what I've experienced on and off for the last 4 years.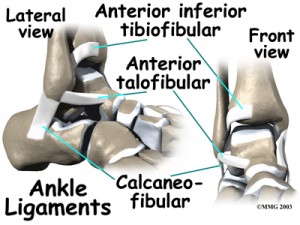 I did have a prior lateral/twisting ankle sprain in October 2010 when my horse had stepped on my foot and I felt like I've never fully recovered from that injury all these past 4 years. A prior MRI  in 2011 did reveal a partial tear of the Anterior Inferior Tibiofibular Ligament which is a ligament involved in a high ankle sprain.  Coupled with prior resolved left foot drop and 12 years of bad bio-mechanics of both of my legs due to Extra-articular Sacroiliac Joint Dysfunction, no wonder my ankle has had its share of stress.  As I eliminated the dysfunction/instability of both the joints above(proximal tib-fib) and below the ankle (subtalar) through my prior successful surgeries, the only joint left to fix is the distal tibiofibular joint of my ankle.
Dr. Gent took x-rays and this time around, he could see the separation of my fibula and tibia on a dorsiflexed ankle view. With my x-rays and history and hands on diagnosis, Dr. Gent had no doubt and concurred with Dr. Main that an Arthrex TightRope Fixation into my left ankle needed to be done sooner than later just like Dr. Main had done with my surgery on 3-27-14. See the surgical blog for x-rays of what the ankle fixation looks like in my right ankle. After a wonderful appointment with Dr. Gent in him giving me extra time to ease my concerns and questions, I left Bremerton contemplating what was to come next as I tried to relax on the ferry ride back to Seattle. I knew my life would soon be up the creek again with another surgical post op protocol of Non-Weight Bearing anywhere from 4-6 weeks to fix this left ankle.
7/1/14 – – I shared my concerns with Mark Bengtson, MPT with Pinnacle Physical Therapy and he concurred that my ankle needs to be taken care of. He has been with me for a full 3 years of non-stop therapy to get me through 9 of my surgeries. His supportive encouragement and rehabilitation has kept me going.  He believes in me and he has witnessed the tremendous changes for the better that I have achieved in fixing so many joint instabilities. I literally travel 4 hours one way to his office no less than 2 weeks apart and many times once a week. I have paid a great price to achieve what I have achieved as I've shared my stories on this website. I humbly say that my dedication has been paying off in eliminating so much pain from malalignment these past 3 years.
7/3/14 – My local second physical therapy office, Peak Performance Physical Therapy in Lewiston, ID did the following video showing my ability to stand on my right leg with full body weight.  They too have seen my success in rehabilitation after the last 3 surgeries.
7/6/14 – Enjoying a beautiful sunny 4th of July weekend.  My pool is very relaxing but I cannot over use my left ankle.  It will hurt even in the pool if I try to swim and flex it too much. But my right leg is very happy and feels well connected from my SI Joints down to my foot.  It still can use much more strength but at least I'm not in pain while swimming with it.  I use to get spasms in my foot while swimming last summer, but not anymore. On this day I took my last ride on my mare "Jewels" as shown in the video below.  I was able to get on her now with my normal mounting block and I did have much more strength than I had 2 weeks ago in pushing off my right leg to get on her. For me this is a victory.  I also feel so much more centered in my saddle and even leg length from my hips to my feet. My left ankle cannot be braced when I'm wearing my riding boots, but as soon as I get off, I have to put the brace back on or the pain will increase. I  can walk well enough for my daily life in and out of stores but I have not taken walks longer than a 1/4 mile as I don't enjoy doing it with a braced left ankle and I simply haven't been ready up until this point of time.  I do better with riding a bicycle at physical therapy. But sitting on a horse and riding is a different story.  I like the connection I feel in my Glutes and my leg is actually relaxed and my ankle does not hurt in the stirrup as much as it does when I walk.  I thank God as I'd rather ride than walk anyhow!
My Patient to Patient Advice-Summary:
Proximal and distal tibiofibular joint syndesmosis stabilization surgery with Arthrex TightRope Fixations are truly wonderful surgeries to correct both acute or chronic instability of these joints. I have not lost any normal range of motion and I've gained stability that I certainly did not have prior to the surgeries. All I can say is don't delay in stabilizing either your proximal or distal joints as their instability will cause some degree of damage to the muscles/tendons, ligaments and nerves in your leg/ankle.  For acute injuries, the rehab may be a little easier as I have had to deal with not only the post surgical healing but major bio-mechanical changes as I've fixed my alignment for the better from at least 12 years of dysfunction.  Many of the symptoms that are referenced in my Malalignment Syndrome Blog are resolved or resolving. I am a year past my first fixation on my left proximal tib-fib and couldn't be happier except to get the distal tib-fib fixated.  For me, the Arthrex Tightropes through my bones far beats any ligament reconstruction type of surgery. I have no awareness of the Proximal Fixations and only a slight awareness of the medial anchor of my distal fixation of my right ankle. Any patient seeking to do this surgery is more than welcome to contact me to ask more questions or share concerns. I am here to be a patient advocate and help in anyway.  See my contact page.

I feel very strongly through my journey that joint instability has been the cause of my secondary symptoms of nerve pain, muscle spams, myofascial pain. My joint instabilities have occurred due to the cumulative effect of my tendency to be flexible but not necessarily hyper-mobile and various minor sports injuries along the way as I have been in some kind of sporting activity since I was a child. Thanks to all the Chiropractors that had initially diagnosed my joint problems and to my primary medical doctors that agreed and believed in their findings. And ultimately thanks to God and Google in helping me find my team of surgeons, Dr. Main (Tib-Fib Joints) in Missouri, Dr. Gent(HyProCure-Subtalar Joints) in Washington and Dr. Weiss (SI  Joints) in Georgia which are all listed on my preferred providers page.
I thank anyone that prayed for me after my last blog. Prayers are being answered.  More strength is needed and I get a little sore in various connecting tendons or fascia around my knee if I over do it,  but tremendous improvement has occurred this past month. My journey will continue on July 11th, 2014 with Dr. Gent and the Pacific Surgery Center in Poulsbo, WA with the Arthrex fixation of my left distal tibiofibular joint of my ankle. I will update my blogs as I continue on. Prayers are needed to cope again with another round of non-weight bearing and missing out on summer's fun activities.  Comments are welcomed through my email link on my contact page.
Stay tuned by subscribing to my blog updates either below or in the right sidebar of this web page.