I have a 2 year working relationship with Mark Bengtson, MPT  of Pinnacle Physical Therapy    and here is his evaluation on 4/11/13 of how I am doing since my Sacroiliac Fixation Surgery on 1-17-13. The following video interview discusses his view of where I am at in the rehabilitation process.
Kim(Post SI Fixation Surgery Status), Evaluation/Interview, Mark Bengtson, MPT
The following 3 videos are specific Postural Restoration Institute (PRI) style of exercises that Mark incorporates in his practice at Pinnacle Physical Therapy.  The exercises in the videos I have done many times before over the past 2 years of physical therapy with Mark; however, this time around there is (at least for me) a significant difference in my ability to do the exercises. With a now stable and fixated  Sacroiliac (SI) Joint, I can now target the areas of concern in my rehabilitation as  narrated by Mark in the videos.  Before the fixation surgery, due to chronic hyper-mobility,instability and dysfunction of the SI joints, I was unable to do these exercises as well as I just did on the videos now.  I was so pleasingly surprised myself how normal( or should I say, without struggle and lumbar pain)  it felt to do what Mark asked of me. And as I write this post, I had no post exercise pain during these past 3 days whatsoever in my lumbar spine.  This is an absolute miracle. It was never like this before the surgery. I have always tried hard for my physical therapists over the past 10 years, but inevitably at the end of  the day,  I suffered worse lumbar pain and/or leg pain no matter what they tried to do for me.

Kim(Post SI Surgery) – PRI style PT Exercise, Mark Bengtson, MPT-Video #1

Kim(Post SI Surgery) – PRI-style PT exercise, Mark Bengtson, MPT-Video #2

Kim(Post SI Surgery) – PRI-style PT Exercise,Mark Bengtson, MPT-Video #3
I will continue this story with  the details for the time frame between leaving Florida at 3 weeks post-surgery till now.
Between 2 and 6 weeks, I was dealing with sacrotuberous and/or sacroischial ligament pain described to me by the SI Team Rehabilitation/Pain Mgmt.  Dr. Ernest Howard when I saw him in Atlanta on my way home back to Idaho from Florida. This ligament pain ultimately was a contributing factor  to what I would describe as positional(non-bleeding) hemorrhoid pain specifically on the left side of  the opening at the lower end of the alimentary canal (Anus), through which the solid refuse of digestion is excreted. I was having a literal pain(felt like a stick up my Anus) after a bowel movement.I never had this kind of hemorrhoid pain before in my life. This was truly the most trying post-operative symptom that I had along the way. Dr. Howard had explained to me how the change of my left  pelvic position from anterior rotation back to neutral would have now put a temporary stress/tightness on these ligaments in their new position that affected the Anus. He had prescribed Zanaflex for muscle spasms which I had used only temporarily till I was settled in back at home.
Once I was home, I then went to my acupuncturist  Dr. Hans Asmussen for some acupuncture treatments over the sacral and anus region. He also gave me a  natural Chinese herbal product:  Health Concerns Brand Formula H which worked wonders  along with a rubber glove and some internal repositioning of the hemorrhoid after a bowel movement. I pulled out of these symptoms by 6 weeks after the surgery and I have never had any more since.  I had finished with Vicki Sims' Physical Therapy Protocol under the direction of Brent "Chip" Wahlberg, Jr., PT at my local PT clinic in Clarkston, WA  Twins River Physical Therapy after I came home from The Andrews Institute in Florida.
For Vicki Sims', PT post SI-fixation surgery protocol here is link to www.sacroiliacsurgery.com patient package #2
Click on the Surgical package #2 PDF and scroll down to pages 20-24 and see beautiful color photos of the exact exercises per Vicki Sims', PT protocol. I have been doing these exercises since week 2 after my surgery with the exception of the specific piriformis stretches due to my piriformis syndrome. I could do these exercises but I will definitely flare the burning sensations in my buttocks and thighs. All the other exercises I can do even better now with a neutral sacrum/pelvis than before the surgery in my previous years of physical therapy. As I rebuild on this stable foundation, my lumbar spine does not hurt like it did before surgery. I actually have found Vicki Sims' exercises to be quite easy and very natural to do.
I had previously struggled with my left side of my body feeling weak and disconnected and the right side of my body feeling tight and doing the job for both sides. I discuss more specific details in my blog Malalignment Syndrome. Now both sides function more equally the same and I do not hurt at all nor do I feel any stress in my lumbar region after doing these exercises. It had always been painful in the sacrum to lay on firm surfaces to do exercises as my sacrum did not feel flat or level to the table but not anymore.  Back in the years 2006-2008, I had done many of these exercises in some form with S.P.O.R.T. Physical Therapy, Lewiston, ID .  Michael Ward, PT at S.P.O.R.T worked very hard with me and he was very skilled with hands-on mobilization of the back -both cervical and lumbar/sacrum regions. However at that time, I certainly didn't know what I know now regarding the extent or severity of my former SI-Instability.
By the 8 week post-operative mark, I felt much better, less tight and stiff in my Greater Trochanter area of my hips. After the surgery, this area had become sensitive, such as a deep achy feeling and very tired with any amount of walking. I describe it as my hips finally had to learn to work correctly instead of my SI joints acting like they were my hip joints due to their prior dysfunction. However, each day brought an increase in the amount of time I could walk before getting sore or tired.  My favorite rehab modality is Infrared heat on my hips. Works wonders to bring deep/penetrating heat to hip joints before doing side-lying leg raises. Formal physical therapy finished at this  8-week point and I continued all my exercises at home.
Also at the 8-week mark, I started to interact with my horse. I could put her in the arena, crack the whip and let her run around. However, I had to take it easy walking on the uneven sandy type footing as there was a definite difference between the arena walking  and walking on normal hard ground. If I did not, then my buttocks and hips would ache. By 12 weeks, the walking was better in the arena but certainly no running steps yet.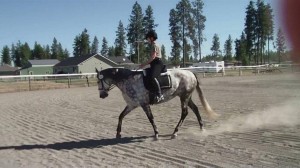 Once during each of the 11th and 12th weeks, I got on my horse for 15 minutes. She had been ridden by my trainer first to make sure she was settled and not full of herself with spring  fever playfulness. She is a 16H tall horse and the trainer would help me on and off her to prevent any extra jarring. I thoroughly enjoyed and needed those moments on her as it encouraged me mentally like every athlete wanting to know that they can still do their sport after a surgery.  There was no pain in my sacrum, nor up my spine. Just a little tightness in my hips which was to be expected since I was tight even before the surgery.  I was so pleasingly surprised that it didn't feel like I had surgery at all. Since it had been 4 months from my last ride on her,  I was a little out of the riding groove, but not too bad. The picture above of me riding Jewels was my first riding horse show with her since she was born. Even though I was having back and leg pain, it was well worth it because I knew I'd be laid up shortly thereafter with my then upcoming Peripheral Nerve Surgery.
Through out the entire 12 weeks since surgery, I have had weekly medical message  using what I consider the most valuable of all therapeutic products. These are my essential oils from the  Young Living Essential Oils Company. I use their Ortho-Sport Massage Oil along with essential oils such as Wintergreen, Panaway, Stress Away and many, many more.  To buy any of these products, here is the sign up page. Insert my Young living Distributor ID #145140 in the sponsor and enroller ID boxes. Please contact me and I will gladly answer any further questions on these awesome products.
I will not endorse any products unless they work for me. One product that I was turned on to by Jacobs Chiropractic  in Florida was CryoDerm Pain Relieving Cold Therapy Roll-on.  Besides my oils, this is the only other product I have used on my sacrum/pelvis/hips since surgery till this day. For me, this product far surpasses Bio-Freeze that is used in many physical therapist offices. I highly encourage readers to check out one of the CryoDerm Website Research Pages. The anti-inflammatory properties of this product worked wonders in easing the post-surgical soreness over my sacrum.
Besides my natural products that I used, I did a lot of icing during first two weeks then I used microwavable  rice heat packs when going to bed. I continued to use ice packs while sitting  and traveling under my buttocks. People always ask me about pain medication after surgery. I never used any Hydrocodone 10 mg  pain pills once I left the hospital. Over the few weeks in Florida, I used less than 10 pills of Diclofenac 75 mg dr anti-inflammatory.  One Diazepam 5mg a few times a week at night to help with sleep if I was aggravated with burning nerve symptoms at bedtime due to piriformis syndrome. By 12 weeks post-op, I only used a Diazepam once a week if needed.  I hope you readers find this information helpful.
The Summary of Good News: All that was sown into my life over the last 7 years by the gentlemen physical therapists at each of these offices -S.P.O.R.T, Twin Rivers and Pinnacle Physical Therapy, has now finally culminated into success with the final mobilization touch to my sacrum by a lady PT working in operating room with Surgeon, Dr. Weiss.
And best of all: The physical therapists mentioned in my story are faithful, believing servants to the Great Physician, Our Lord Jesus Christ. I thank you Lord for orchestrating the steps of my medical journey in the hands of physical therapists that honor You in their work!
Here is link to my next update.