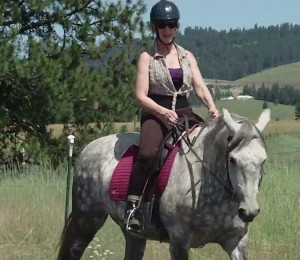 I am now stable and ready for full weight bearing on my left leg and can enjoy freedom again to ride my horse at the 6-week post surgical recovery point  from the open reduction and internal fixation of my left proximal tibiofibular syndesmosis dislocation-surgical CPT code 27832. The fixation consisted of using 2 Arthrex Knotless TightRopes to  dynamically stabilize the joint as well as a single bioabsorbable screw to statically stabilize the joint.
From my last blog which left off at the 3 week point of recovery, I continued doing my aqua therapy leg exercises. At the 4-week mark on 6/11/13, I was then allowed to start walking across the pool in 4 ft of water to simulate walking on land but the water takes the weight off of the leg. This was the equivalent of touch weight-bearing while on my crutches. Starting in my fifth week, my exercises increased at Twin Rivers Physical Therapy to include the seated elliptical along with the total gym leg press with no weight except the movement of my own body weight sliding up and down. I needed to get more strength in preparation to start weight bearing on my leg.
Tues. June 25th, 2013
– I finished the 6-week non-weight bearing status and I was now allowed full weight on my left leg.
Great! So now I can just go out and walk. Oh yeah! I don't think so.
I found out very quickly how painful my knee began to feel not where the surgery was done on the lateral side of knee, but sharp and pointed pain at my medial patellofemoral ligament (MPFL) underneath my medial retinaculum along with strain at my vastus medialis muscle.(See photos)
Wed. June 26th, 2013
– Here is a video of me exercising my leg to strengthen my hamstring muscles on the "Shuttle" piece of equipment. You can also see my surgical scar and I point to where the new pain has manifested while walking:
I continued the rest of this 6th week to increase my walking. I had some ultrasound therapy done to my medial knee to help in pain reduction along with a lot of icing. In addition to the medial knee, my left ankle and foot were giving me grief. I tried various tennis shoes with and without my previous custom orthotics  to try and find the most comfortable combination I could. For the moment, I felt the most comfortable in a pair of slip on Crocs. I really did not have any pain at the surgery site around the  proximal tibiofibular joint. As I walked the muscles down entire lateral shin would swell, get harder and/or be in a slight spasm which would cause my sensory peroneal nerve symptoms to increase. Also, a little sensitivity on the medial side of tibia where the other end of the Arthrex Fixation devices come through the bone and can be felt below the skin. See the sidebar of this blog for x-ray image of surgical fixation.
Thurs. June 27th, 2013 –  an appointment with Dr. P.Z. Pearce, Champion Sports Medicine,  my primary Sports Physician in Spokane, WA who has been doing my local post-surgical follow up in addition too and on behalf of my out-of-state surgeon,  Dr. Main. Dr. Pearce is keeping an eye on the medial knee pain and offered to inject some cortisone in a few weeks if my pain did not decrease from continuing with physical therapy.
Mon. July 1st, 2013 – It was great to have a post-op follow-up Skype-video computer appointment with Dr. D. Christopher Main,  my orthopedic surgeon in Macon, Missouri. I shared with him all the details of how my initial impressions of walking were going. Of course my impatience was ringing loud and clear as to why I just could not get up and just walk out normally. (I never had been non-weight bearing before in my life.)  Needless to say, I appreciated his reassurance that nothing was harmed on my medial knee during surgery and that my pain was not in the knee joint itself.  He also said the common peroneal nerve had to be touched to move it out of the way for the fixation during surgery. Besides swelling, just the touching of the nerve alone can create the nerve symptoms, yet he was pleased that the level of nerve pain was subsiding and he wanted me to continue to have more patience during the healing process for the nerves. He described all my pain symptoms as being related to a major change in my bio-mechanics of the leg just because of the fixation and also due to the fact that everything was weak from being in a non-weight bearing status. He encouraged me to buy a new pair of tennis shoes to start fresh with and to consider getting new orthotics made in near future. He wanted closed kinetic chain exercises to increase in my physical therapy. It was also fine to continue wrapping my lower leg and ankle in ace wraps for support to the muscles and compression against swelling.
I shared back with him that most assuredly I had to be extra weak in my quadriceps/hamstrings compared to his prior surgical cases for Proximal Tibiofibular Instability/Dislocation because of the malalignment syndrome I suffered related to my prior 10 years of chronic SI Instability and Dysfunction.I never had the time to completely rehabilitate from my SI surgery because of the pain in my lower leg with the Proximal Tibiofibular Joint Instability/Dislocation. Now with both the SI Surgery and Proximal Tib-Fib Surgery behind me, my left leg has been given a foundation of stability that I have not known for over 10 years. However, living with chronic instabilities had taken its toll on every muscle, ligament, tendon and some nerves of my left leg and ankle in some degree.  During this first week of walking, a lot of second guessing and doubt was clouding my mind as to how I would ever walk normally again. And what is normal? I truly did not have a reference point.
I prayed daily for the grace to endure the unknown and to continue being an overcomer of any pain. My post surgery nerve pain level decreased tremendously from the prior 3 weeks. Also during the 3-7 week rehab period,  I only took 1/2 of a 5mg Diazepam when I felt like the post-surgical pain/muscle spasms had caught up with me and my anxiety had mounted to the point of needing some better relief and rest. Otherwise, I got a weekly thorough medical message in addition to my twice a week physical therapy appointments and I stayed tuned up in my back with the chiropractor. I exercised in my pool as often as possible along with my home physical therapy exercises. I continued to do my natural regime of applying Young Living Essential Oils daily to my leg and ankle along with taking many supplements.

July 3, 2013 – I saw Dr. Sheldon, DC at Dwyer Chiropractic Office. My left ankle anterior talus bone was in subluxation and he adjusted it for the first time since my surgery. This gave some help to my left ankle and he tapped the ankle for me. Again this problem had also existed before the Proximal Tibiofibular Surgery. Please read my prior blog with video discussion of Dr. Sheldon describing my talus being a problem along with the Proximal Tib-Fib joint.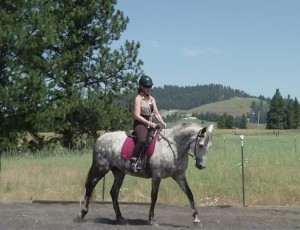 July 4th, 2013 – Celebration Day! Along with my physical therapy, Dr. Main said I could get back on my horse (as long as she was safe and trained and not a bucking bronco) from this point forward. I assured him I would take it slow and go to tolerance in the amount of time I was on her back. After a friend warmed my horse up, here is photo of me on "Jewels" celebrating my freedom to ride again for about 15 minutes. It felt better to sit in my saddle and ride than to even walk outside to get to my arena. My ankle was tapped at this point and posting up and down at the trot was difficult on my ankle. However, I did recognize an immediate difference now by not having the lateral knee pain because of the Proximal Tibiofibular Surgery like I previously described in my  "Back in the Saddle Blog…."  Now only to walk pain free was my immediate rehab goal.
My next blog will continue the post surgical rehabilitation process from here.