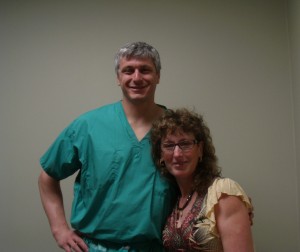 In searching out all my surgical options to stabilize my chronic condition, I found Dr. D. Christopher Main through a search on his name from the Internet Scientific Publications Case Study he authored in 2009.  At the same time,  I also found a similar surgical procedure in this Elsevier Case Report research article: Dislocation of the proximal tibiofibular joint  A new method of fixation
During the previous year, I had already read all about the standard surgical procedures regarding what could be done for this joint instability. A screw fixation that would need to be surgically removed, fibular head resection,  different types of ligament reconstructions, and arthrodesis (fusion) of the joint. None of these more common surgical procedures appealed to me.
From my prior blog , I am continuing here with my chronological story. While I was enjoying the new freedom of no more Sacroiliac Joint Dysfunction, my lower left leg was not happy at all. While in Florida, I saw Dr. Jacobs -Jacobs Chiropractic for several appointments. Because my lower left leg continued with strong pain sensations, he confirmed the tibiofibular joint subluxation and adjusted both my left knee and left talus bone of my ankle on 1/28 and 2/4/13.Yet I was so happy not to need his services for my SI Joint.  This lower leg pain was robbing me of the joy I was trying to have in a successful SI Fixation Surgery. Once I returned back to Idaho to finish my post-operative rehabilitation from my Sacroiliac Joint Surgery, I then proceeded to continue seeking help for diagnosing my Proximal Tibiofibular Joint Instability-lateral knee pain as follows with my journey ending with Dr. Main's diagnosis and pre-surgical evaluation.
March 27, 2013 –  A second opinion consult with Dr. Ronald Alm, DPM, Lewiston, ID  regarding my ankle pain and/or lateral knee pain causing my ankle pain. He also made a minor adjustment to my current orthotics. His impression was unstable superior tib-fib complex left and sinus tarsi syndrome left, diagnosis codes 729.5-pain in limb and 718.80 instability of joint.
March 28, 2013 – At an appointment with Dr. P.Z. Pearce, Champion Sports Medicine, I personally brought a retired chiropractor friend of mine to discuss his knowledge and findings  of my condition with my medical doctor. At that moment, I had been NWB  with my lower leg/ankle splinted for the prior 2 weeks in experimentation to see if my ankle was causing my fibula instability/knee problem or the fibula instability causing my ankle pain. After much discussion, it was determined that my diagnosis was: Left Proximal Tib-Fib Sprain of knee and leg code 844.9
Again, I had already read everything I could find regarding conservative management of my proximal tibiofibular joint. As mentioned above, I chose to go  non-weight bearing (NWB) and splint my own leg with the help of my chiropractor just to see if I could get some pain relief. I did have complete pain relief while NWB. This tib-fib joint problem felt so much like the SI Joint problem in that both parts of the body would feel better after rest and get worse through out the day after walking which is typical of a joint instability. By this time if a surgical intervention helped my SI Joint so much, then why not do the same for the proximal tib-fib joint? No one was going to convince me otherwise especially in light of the fact that my chiropractor told the medical doctor that continually adjusting a chronically hyper-mobile  joint was not the best course of action. An adjustment would simply not hold due to the liagmentous laxity surrounding the tib-fib joint.  I was well convinced that a surgical intervention was necessary to provide stabilization and relief from chronic pain in my leg that I had experienced in some form for 10 years by now.
April 12, 2013 –  I had a second left knee MRI that was normal again in all categories per radiologist report.
April 12, 2013 – Family Medicine-Dr. Susan Ashley said: "I have hypermobility syndrome of the tibiofibular joint and that it was reasonable to assume that I would improve with a tibiofibular fixation. " I had shared with Dr. Ashley my research and she was highly receptive and supportive of Dr. Main's published surgical procedure.
April 15, 2013 – Phone consult with Dr. D. Christopher Main, DO in Macon, MO regarding his published case study on surgical procedure: Proximal Tibiofibular Fixatoin Using a Dynamic Syndesmosis Fixation Device. I asked Dr. Main many questions, and when it was all said and done, he did consider my symptoms as classic to instability of the joint. For Dr. Main, my 2 negative knee MRI's were actually a positive sign in that all other possible knee pathology is ruled out. He accepted the chronic tib-fib instability as documented by several chiropractors along with my own subjective history and leg pain symptoms as enough to warrant surgical intervention; therefore,  he did offer his surgical services in my case should I want to come to his office in Missouri. For the first time I felt some hope to bring lasting relief to my situation. I proceeded to continue in documenting my case with my local providers in preparation for surgical consideration.
These following two x-rays taken 4-17-13 by Dr. Scott Sheldon, Dwyer Chiropractic, Clarkston, WA:

His interpretation of x-rays: "There is a slight wedge on the lateral aspect of her left knee in the joint space. The left tibia shows anterior rotation on the the AP view. The left fibula has mild lateral displacement. There are no remarkable findings of degeneration. There are no remarkable findings on the right knee."
Dr. Scott Sheldon, DC also wrote me a letter of his clinical evaluations, quoted as follows: "Kim has been under my care for lower left leg pain and parasthesia. She has point tenderness with mild related edema around her left lateral and posterior fibula head. Kim has end range restriction on left lower leg flexion. She also has point tenderness over her left anterior talar joint with associated decrease in dorsiflexion. After reviewing the patient's history and doing an examination, these symptoms present in a chronic nature. Kim initially does well with the chiropractic adjustment, but the results are short-term. She has had difficulty getting her symptoms to subside and stabilize long-term. Kim now is taping her leg and wearing a knee brace to try and decrease the frequency of exacerbations in her knee."
April 18, 2013 – Dr. Khalid Shirzad, my foot/ankle orthopedic specialist at Northwest Orthopedics had been keeping a general orthopedic tab on me throughout this past year on my ongoing lateral ankle pain and indirectly on behalf of my knee specialist, Dr. Kersten, for my tib-fib joint. He also was monitoring my ankle/foot post-operatively from my 2 out of state  Peripheral Nerve Surgeries. I had a  successful surgery with Dr. Shirzad  in Aug. 2011 for the Anterior/Lateral Ankle Impingement Syndrome (future blog to be written) and I want to keep Dr. Shirzad up to date on anything that directly or indirectly affects my ankle/foot.  I believe in a team approach to successful outcomes and I work hard at providing copies of chart notes back and forth amongst my medical team. I always seek several opinions on an issue and then make my choices.
So at this follow-up appointment, I wanted Dr. Shirzad to see how I was doing after my SI Fixation Surgery regarding my walking and current status of lower leg/ankle. When I came to the appointment,  my lower leg had already been wrapped after seeing the chiropractor the day before.  He could see how happy I was after the SI surgery, but that my joy was stolen away by my ongoing Proximal tib-fib and ankle pain. So Dr.Shirzad's chart note said: " Examination today reveals that she has a very well-wrapped left lower extremity. She still has some mild swelling around the proximal tib-fib joint. There is pain with palpation of the proximal tib-fib joint. I left her leg wrapped in place and did not remove it."
Since I had mentioned wanting to get an appointment with a Dr. Lyman (a knee specialist in Coeur D'Alene, ID), Dr. Shirzad had concurred that I should do that.  Dr. Lyman had come highly recommended by my medical massage practitioner and my physical therapist regarding his skill with knee surgeries. However, it is always my intent to do business with Northwest Orthopedic Specialists  (NWOS) first and foremost. I love their surgical center and all the kind and compassionate staff and good service that I have received in the past and what I call good cost control in the financial end of things.  I continue to refer all my friends to my doctors at NWOS. In my mind, I believed that the door was closed from the year prior when I had approached Dr. Kersten see prior blog and I just assumed (whether I was right or wrong) that Dr. Kersten or the other knee surgeons of their group would not want to review my case again or offer any surgical intervention for my joint instability.  That is why I reluctantly went outside of the NWOS group to seek help. However, I will always be thankful to Dr. Shirzad for at least examining my proximal tib-fib joint and his supportive chart note acknowledging the pain upon palpation.
April 25, 2013 – Appointment with Dr. Lyman, MD-Lyman Knee Clinic, Coeur D'Alene, ID. I had wanted to do the Proximal Tibiofibular Surgery locally instead of flying out of state. To keep it simple, it was not meant to be as Dr. Lyman and I were not on the same page or should I say quoting his assessment/opinion on my chart note: "I do not believe in my hands that surgery is indicated for her. I think it would be unlikely that she would benefit from any type of tibia and fibula fusion in particular. If she does benefit from this procedure, it will not be for physiologic reasons. There does not appear to be any instability associated with this joint per standard criteria for that condition."
I proceeded to leave Dr. Lyman's office with many tears and anguish at another surgical rejection for my condition. Every doctor is more than entitled to their opinion and I respect that. However, as a patient, I want equal respect  to my own well researched opinion of the condition I live with in addition to all the efforts I had made in exhausting standard pre-surgical conservative treatment without any doctor implying that it is in my head when its in my leg.  Through prayer to my Great Physician, my tears turned to immediate pro-action. While sitting in Dr. Lyman's parking lot, I  got on the phone and I contacted Dr. Main's orthopedic assistant – Loree again in Missouri and the doors were still open.  I knew that the post-op protocol would require 6-weeks of NWB so I did not want another moment wasted of my time in delaying a surgical intervention as summer was approaching.
All the chart notes that I intended to give Dr. Lyman along with the following report from my physical therapist that had worked with me over the past 2 full years, (see Mark Bengston, MPT-Report ) was immediately faxed off to Dr. Main's office. I went out of my way the next day to record and provide  the following video's to Dr. Main's office for his viewing in support of my case. I gave their office every reason to discount my story in light of the fact that another surgeon had just told me his opinion against surgery. However, I felt that Dr. Main believed in me and yet I certainly could respect that 100% surgical guarantee could not be made till he saw me in person and examined me. I expressed to his assistant how I could not afford both financially and emotionally to fly to Missouri, and then be turned down again for surgical help.  By the afternoon of Friday 4/26, I received word back thru Dr. Main's assistant, Loree, that Dr. Main took my case serious and that he would at bare minimum put an arthroscope in my knee to see what may not always be seen on an MRI or just proceed with the intended Proximal Tib-Fib fixation after he exams me in a pre-op appointment.  I was reassured as much as possible and it took a step of faith to believe and fight against rejection in my mind that my 3rd surgical attempt would be a success. At the end of this day, I had a pre-op appointment set for Monday, 5/13 and a surgical time for Tuesday, 5/14, followup appointment for 5/20 and I could then proceed to buy airline tickets.
4-26-13  Video Evaluation by Dr. Scott Sheldon, DC
4-26-13 Dr. Sheldon doing his adjustment
4-26-13 Post adjustment discussion
4-26-13 Post adjustment taping/immobilizing to maintain a few hours of stability
From April 26th-May 10th – I was extremely busy preparing for another out of state surgery. I proceeded in faith to have all my post-surgical needs for a non-weight bearing status planned for including: Community Medical, Moberly, MO for wheelchair there and Owl Home Medical-Lewiston, ID for wheelchair here at home. Ladies from the church to help me with meals and carrying things in and out of my car as I travel a lot between two home locations.
May 11th, 2013 –   Beautiful flights, no glitches, an over night in St. Louis then a 2 1/2 hour drive to Macon, Missouri to get to Dr. Main's office. I was blessed to have my friend Kelly traveling with me again like she did before with me in the Peripheral Nerve Surgery blog.
May 13, 2013 –  Pre-surgical office appointment with  Dr. D. Christopher Main, DO at Midwest Bone and Joint Center, P.C. in Macon, Missouri. I was very pleased with the comprehensive and thorough exam, x-rays taken in his office of my left ankle and my left knee x-rays and MRI that I brought with me were reviewed.
Quoting from my office chart note the pertinent findings with the bold type my emphasis: "Musculoskeletal examination demonstrates her to walk about the clinic with assistive devices. She has a Coban wrap involving her left lower extremity from the knee to the ankle. Once removed she does have mild swelling overlying the lateral aspect of the left proximal leg region just below the level of the lateral joint line.  There is a trace amount of swelling involving the left ankle….She is tender to palpation overlying the anterior tib/fib ligament, the distal tib/fib syndesmosis, the ATFL and the CCFL….Dorsiflexion and external rotation stress test elicits minimal pain at the ankle but more pain along the mid syndesmotic region. Cotton squeeze test is negative distally but is positive proximally….Examination of the left proximal tib/fib articulation demonstrates evidence of marked increase mobility of the proximal fibula in relationship to the tibia. She is noted to have a posterior and inferior instability pattern. This instability becomes worse with the leg externally rotated and it tightens with the leg internally rotated….X-rays from an outside facility reviewed about the left knee including AP and lateral demonstrates no gross evidence of arthritis changes present. The overall articulation of the proximal tib/fib joint appears to be well aligned….X-rays obtained today of her left ankle in our facility, AP, mortis and lateral views demonstrates the syndesmosis and ankle mortis to be well aligned. There are no signs of fractures or avulsion injuries noted….Outside MRI of left knee is also reviewed, which demonstrates no gross evidence of collateral or cruciate liagment tear or laxity or involvement. The meniscus appears to be intact.  Minimal arthritic changes are present.  There is mild increased fluid accumulation and swelling around the proximal tib/fib articulation."
Click on images to enlarge.
My computer tech (who also has a certification in x-ray/mri technology) helped me to upload these two MRI images. He said he could also see what Dr. Main was talking about in that the white markings showing up on a T2 image is fluid accumulation above/around the head of the fibula.  My only other diagnostic tool was a repeated Thermography scan on 5-7-13 that reiterated that my hyperthermia at the left popliteal fossa remained and was unchanged from previous scan on 12-6-11 and findings were consistent with underlying joint dysfunction.
IMPRESSION: "Left leg proximal tib/fib syndesmotic instability, dislocation."
RECOMMENDATION: "Based on Kim's findings today we discussed the surgical procedure that would be required to stabilize this region, which would consist of an open reduction and internal fixation of the left proximal tib/fib dislocation with the use of two Arthrex knotless tightropes to dynamically stabilize the joint as well as a single bioabsorbable screw to statically stabilize the joint.  She would undergo the surgery on an outpatient basis under general anesthetic. She would be place into a limited dressing and wrap following surgery and at that point would be followed up in Missouri roughly three to four days following the surgical procedure and allowed to return home within the week. She has already scheduled routine followups with her physician back home in Spokane, WA….Following the surgical procedure it is recommended that the patient will be placed into a formalized physical therapy program….In order to obtain the most optimal outcome regarding range of motion, strength and return to functional activities of daily living, the patient must attend physical therapy sessions and be actively involved in a home exercise program. Failure to complete this will decrease the chances of a full and complete recovery…."
May 14th, 2013 –  I had the surgery the next day. For the ongoing details please read my next blog: Proximal Tibiofibular Syndesmosis-Arthrex TightRope Dynamic Stabilization Surgery