This blog is my final recovery update at 8 months since  my Endoscopic Gastroc/Soleus Recession surgery that took place on Dec. 30, 2014. Since posting my last recovery blog on April 26th, 2015 regarding the healing, I ended the last blog with saying I would return to Dr. Gent for further evaluation regarding my foot/arch pain and peroneal tendon pain.  I was also looking forward to riding my horse more during the summer but that came to an end on June 18th, 2015 as written about in my recent Spiritual Journey Blog Post   entitled: "2015–Trials of Life–Pain, Sorrow, Despair—Give Way to New Hope, Joy and Tribute"  For my faithful followers and new readers to my posts, please read that story to understand what I've been through which is why I've been so delayed in finally getting the time to write this post surgery update blog.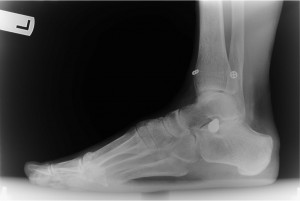 So here are the details since 4/26/25:
May 14th, 2015 – I took one of my physical therapists with me to my local foot doctor, Dr. Alm, so he could see what she had been doing to help me and simultaneously for the doctor to let her know his thoughts too.  Dr. Alm's impression: "I think she probably has a supinated foot with an overload in 5th column from the HyProCure".  He took x-rays of my left foot and stated: "X-rays reveal a supinated foot with a HyProCure in good placement. No signs of acute bone pathology." Dr. Alm encouraged my therapist to continue doing such a great job at mobilizing my soft tissue under my foot which indeed helped to counteract the pressure I was putting on my lateral column until I went back to see Dr. Gent, my surgeon. At this point I was more concerned about the foot than the recovery of my calf from surgery as it was coming along very nicely.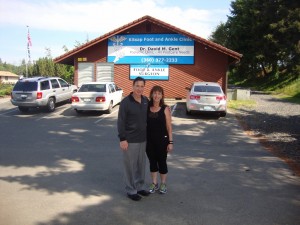 May 20th, 2015 – Back in Bremerton, WA with my first of 2 days of appointments with Dr. Gent. Today Dr. Gent gave me a Lidocaine injection into or near my HyProCure Stent to numb that part of my foot then told me to go walk and report back my findings. I enjoyed my walk immensly with the Lidocaine and I was comfortable in the part of foot-Sinus Tarsi with stent. However after a good walk on my favorite trail by the inlet of Silverdale, WA, the peroneal tendon insertions were very achy. So the next morning I was scheduled for PRP Injection into the Peroneal Tendon.
May 21st, 2015:  I'm pictured (click photo to enlarge) outside his clinic with Julian Henslee,  a representative of ABI Extracorporeal Autologous BioSolutions. He provides PRP-Platelet Rich Plasma services to Dr. Gent of Kitsap Foot and Ankle Clinic.
Before going in the clinic, I walked around outside for my last walk because I knew there would be about a week at least that I needed to stay off of my foot again once the injection was done.  It takes sacrifice to gain the better good and I am willing to do it. So if that means using crutches again so be it.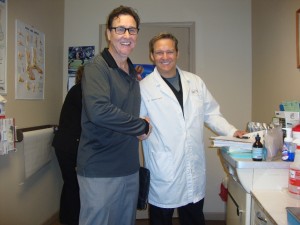 Inside the clinic, Julian drew my blood and spun it down preparing the injection concentrate of platelets for Dr. Gent. Meanwhile, Dr. Gent did an ultrasound of my left foot peroneal tendon(Brevis and Longus) around lateral foot to find my irritations.  The purpose of this followup appointment was to see how I was doing since my last visit in February even though we talked on the phone several times in between. Now that I had been walking a lot since beginning of February, I was experiencing new pain-lateral column overload which needed to be sorted out as I mentioned in my prior blog.
Dr. Gent's Ultrasound findings: "Longitudinal and transverse imaging of left lateral ankle and foot for the peroneal tendons. Swelling noted with hypoechoic presentation at the peroneal groove on the fibula and lateral calcaneal wall." (Hypoechoic–adjective Referring to an abnormal reduction in echoes by ultrasonography, usually attributed to a pathologic change in tissue density). "The irritation of the peroneal tendons was treated today with US guided injection into the tendon sheath of the peroneus longus and brevis at fibular groove and lateral calcaneus and insertion on the 5th styloid with PRP."
Future Treatment Plan: "Discussed  further surgery with the removal of existing stent in left sub talar joint and replacing it with a one size smaller to allow a little bit more motion of the joint with pronation."
Here are two videos documenting today's appointment. The first video is our discussion and review and prep for injection.
This is my post injection video, sorry I cannot video during the actual process as I cannot stand to watch needles going into my body.
Here are some research articles on the subject of Platelet Rich Plasma that I had already enjoyed reading:
Platelet-Rich Plasma Rehabilitation Guidelines by University of Wisconsin Sports Medicine
A Closer Look At Platelet-Rich Plasma For Achilles Tendon Pathology in Podiatry Today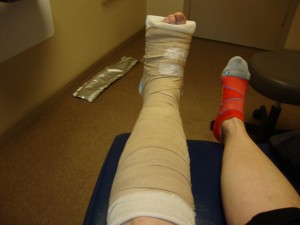 Here is photo(click to enlarge) of my posterior splinted left leg/ankle after the injections. The injections surely did make the tendon sheath swell and the splint and ace wraps helped to keep it protected and comfortable. It felt like a temporary sprained ankle. The injection itself didn't hurt much except for the initial numbing injections. We left to catch the ferry and then rested in Issaquah back on the Seattle side of the water before making the trip back to Spokane the next day.  That evening I enjoyed a new restaurant that served Greek Food. I am pictured here with my favorite Greek appetizers and a glass of wine to relax from an action packed day. My foot was a little achy but tolerable and one 5mg of Diazepam for bed time was sufficient. Anti-inflammatories are not allowed as it defeats the healthy inflammatory response to the injection.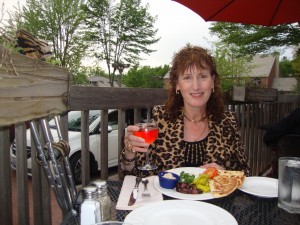 Dr. Gent advised me to take it easy and treat the foot like it had a sprain as the tendon was weakened some from the injection. I stayed on crutches for a week then used a walking boot for a few days and transitioned into my tennis shoes with just an ace wrap for support after 2 weeks. Now the protocol would be different if there had been an actual tendon tear. More time of protection in a splint or walking boot to heal a tear is required.
I stayed in touch with Dr. Gent regarding how I felt with the foot  and lower leg over the next 2 months. I healed very quickly from the injection and it did take the pain away. I continued to improve my walking and paid attention to my stride and its affect on my lower leg/foot/arch. I came to realize how much I had been twisting my lower leg inward to push off better from my big toe because my arch simply would not pronate enough in gait. I avoided doing this compensation and my peroneal tendons and muscles were much happier too.  With my physical therapy strengthening of my gluteus muscles around my hip, I could control my lower leg with heel strike and not allow my foot to supinate too much and then twist inward. In staying more centered on the foot and feeling arch contact, I would end up with pressure and many times sharp pain coming up into my foot in the navicular bone area of arch at night.  This was a small price to pay for enjoying a good walk. Now during this time, my gastroc and soleus muscles were doing very well.  I could stand and dance to many songs wearing 1 1/2 inch high heeled dress shoes and I was definitely feeling strength in the calf from its prior weakened state of the Endoscopic Gastroc Recession Surgery 6 months ago.
June 18th-August 24th, 2015 – As mentioned at beginning of blog, I was busy to say the least and tried to enjoy my summer the best I could.  My swimming pool was the highlight when I could get into it. Again please see this spiritual journey blog link for a complete understanding of what I was up too during this time frame of my life. Regarding my left leg gastroc surgery recovery, it was a complete success  in achieving the lengthening that was needed and the proper amount of dorsiflexion of my left ankle. Amazing how my life changed and the desire to walk increased 100 fold.  The peroneal tendon pain was gone. Now to address the arch issue. By this time, Dr. Gent had already agreed to do the HyProCure Surgery again; thereby decreasing the stent size in my subtalar joint-sinus tarsi canal which would allow more motion in arch.
August 25th, 2015 – A great day to remember! So when my sister came out for vacation, her and I went back to Bremerton to see Dr. Gent again. This day started with my pre op appointment for my surgery to occur the next morning.  After leaving his office, all I wanted to do all day was walk because I knew the sacrifice it would take again temporarily to have surgery and not be able to walk well for 2 weeks at least.  Here is a video clip of me hiking in a woods for the first time walking 2.5 miles non-stop.
I logged a total of almost 5 miles on my FitBit as I toured around the Kitsap Peninsula enjoying a wonderful day with my sister that I had not seen for a year.  Also I've created a photo gallery of stops along the way.
(Click on Images to Enlarge)

To Summarize:
I think the Endoscopic Gastroc Recession surgery is a phenomenal minimally invasive surgery to achieve a lengthening in the Achilles tendon with very little down town(3 weeks non-weight bearing). Yes it takes an effort through good physical therapy  and massage therapy to achieve pain free results. But in the end, it is worth it to have a proper walking gait and normal dorsiflexion of the foot. Along the way, a Platelet Rich Plasma (PRP)Injection can boost the healing abilities in the body and help to break up adhesions/scar tissue.  I've had PRP injections done in the surgical site after the surgery, in my Achilles insertion point on lateral heel, into the lateral portion of my musculotendinous junction  area of my Achilles which was about a hands width above the insertion point at my heel and into the peroneal tendons as discussed above. I use my 4mm full foot lift for my leg length discrepancy and I'm good to go. No more short leg syndrome. 
This ends the blog posts for my short leg syndrome category of this website. My next blog post will be my Left Foot HyProCure Surgery Revised and it will be featured back under the HyProCure Category of this website. Stay tuned for the surgical revision blogs.  Visit SI-Instability.com on Facebook!
Update: 11-8-15 My next blog is posted at this link.