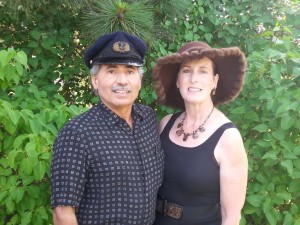 To my new readers and faithful followers, I am finally writing a blog again about the Trials of Life that I have faced over these past months since my last Spiritual Journey Blog written almost a year ago.  I can now start to see new hope and joy set before me.  I will write my detailed medical journey separately that simultaneously continues on in the midst of my personal trials of life. This blog is more of the Spiritual/Personal trials that have taken place and a Tribute to "Jewels" a special horse connected to my soul. I'm thankful to my wonderful supportive husband, Dean, for his extra concern and love in the midst of the trials.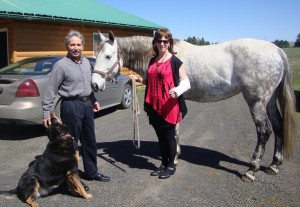 June 18th, 2015— Prior to this date I had very little riding time due to my medical issues of trying to conservatively heal my left wrist. I was splinted for over 6 weeks through my elbow as seen in photo.  My dear friend and horse trainer, Dr. Hans Asmussen, had been riding my mare weekly to keep her trained and prepared for me to return. Then I was finally able to ride this day and I had a wonderful ride and I felt one with my horse. All my walking that I had been doing kept me in shape and I felt like I had not missed a beat. I was also preparing to take my horse the next day and participate in a horse riding clinic with a classical dressage trainer from Seattle area coming to my region–something I had wanted to do for several years but could not because of all the medical surgeries.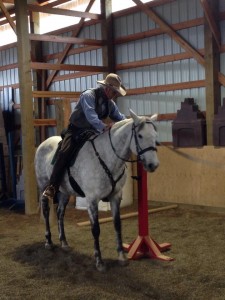 That evening tragedy struck. My horse rolled in her stall and was cast(meaning got stuck in the wrong position up against stall wall) and struggled to get herself freed up during the time I was in my home preparing for the trip. At 11pm that night, I went out to check on her as I was packing my horse trailer and I found her totally in pain and could hardly move. The next day she went straight to my vet clinic and Dr. Harper- a chiropractic veterinary doctor- attended to her along with Dr. Rustebakke at Rustebakke Vet Services. I was very sad to have come this far physically myself to now not being able to participate in the riding clinic and receive further training with Jewels because she just had to roll the wrong way in her stall.
The pain of her twisting her lower back/sacrum and lower neck along with the swelling/muscle spasms  sent her into a stress founder situation. With horses this affects their front feet causing so much inflammation. The inflammation softens the tissues that support the coffin bone. Then a horse postures themselves back over their hindquarter to relieve the front feet but her hindquarter was not stable either and no where to go to relieve the pain.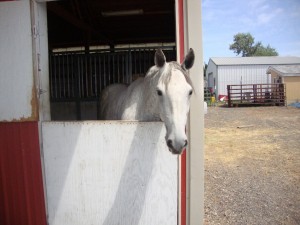 She didn't even want to lay down in early weeks too much because of the difficulty to get back up.  Over the next 5 full weeks, I lived in the city near vet office to be there as many days as I could to see my horse and do ice packs on her back, give an extra hand in cleaning her stall etc. Everything in both traditional and alternative medical treatment was given to this horse to bring this mare out of inflammation and save her feet.  I had raised her from a foal on my ranch property and she thought and carried herself like a princess. I was part of her herd since I didn't have other horses for her to focus on.  She was my pride and joy and was there for me as a companion just to talk to when I was in pain and felt isolated and alone on my rural hill.  I really felt like her surrogate mother.  So much time had been lost with 4 yrs of non-stop medical surgeries on my part as spelled out on my homepage of this website.
July 19th, 2015 – Jewels had her 11th birthday. By this time in the journey, I had wrestled many times in prayer over pleading for her to be healed and at the same time accepting the still small voice of: "was I willing to surrender her and let go?"
July 23rd 2015 – Now 5 weeks since injury, Jewels had finally started to show a tremendous improvement in her low back pain and her ability to walk straighter; however,  her feet had lost the battle to the stress founder.  X-rays showed major rotation of her bones pushing out into the sole of her feet.  There was nothing further that could be done. A photo of walking her to vet exam office and Jewels resting her head in the arms of a wonderful, skilled  Certified Farrier, Lisa Hancock that had been trying to save her feet for several weeks.
A debt of gratitude to Dr. Rustebakke (my long standing vet that worked with Jewels for many years), to Dr. Harper (her attending vet and Chiropractor), Dr. Slattum (Equine Acupuncturist/Chinese Herbs), and Ramona Kellogg of Stance Enhancement (equine body work, intuitive animal communication, equine supplementation) for all their team effort to do everything traditional and alternative to save Jewels from the progression of stress founder. And to the special vet tech that diligently took good care of Jewels on a daily basis in the barn. No expense was spared in our efforts to save her. With all the team of professionals in agreement, the decision to euthanize was made.  I had one more day with her at the vet office then prepared to bring her back home to the ranch.
July 25th, 2015 – A Day to Never Forget. The vet was able to give Jewels a good dose of pain medication and I hauled her 75 miles back home from his clinic to the ranch.  I put her in the pasture and I could see the freedom she now could enjoy after being stall bound for 5 weeks. She made the most of it and that broke my heart even more and tormented my mind with the decision to put her down. God, why could she still move so good yet be beyond human help with her front feet? On very short notice my dearest horse friends, Carol, Debi, Diana, Elaine and Dawn came to my ranch to be with me. Our ranch helpers, Cathy and Dan, both were able to have their time to say goodbye too. Gail, the wife of my trainer, was able to come also to pay her respects to the horse her husband had spent years riding for me.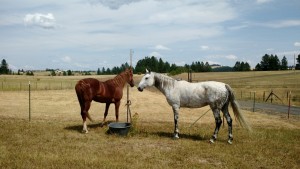 Another dear friend, Julie, rode over on her horse and then put her mare in with Jewels. Jewels and this mare enjoyed their own horse fellowship while my friends and I had a potluck together.
I meditated on the daily devotion for July 25th  from the Jesus Calling book written by Sarah Young, quoting as follows:
"As you listen to birds calling to one another, hear also My Love-call to you. I speak to you continually: through sights, sounds, thoughts, impressions, scriptures. There is no limit to the variety of the ways I can communicate with you.  Your part is to be attentive to My messages, in whatever form they come. When you set out to find Me in a day, you discover that the world is vibrantly alive with My Presence. You can find Me not only in beauty and birdcalls, but also in tragedy and faces filled with grief. I can take the deepest sorrow and weave it into a pattern for good. Search for Me and My messages, as you go through this day.  You will seek Me and find Me when you seek Me with your whole being." (Bold is my added emphasis)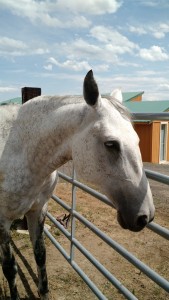 Scripture references for devotional: John 10: 27,  Jeremiah 29:13 and Romans 8:28 AMP "We are assured and know that [God being a partner in their labor] all things work together and are fitting into a plan for good to and for those who love God and are called according to [His} design and purpose. "
The final moments: God, why did I have to go through this gut wrenching ordeal? What hope do I have in replacing Jewels as she was all I wanted in a horse? How could I ever find another horse of her quality breeding and training for the small amount of insurance money I'd receive when she was gone? The dream of having a horse like Jewels was birthed in 1996 and came to pass when she was born 2004. It had taken several horses before her to be sold in order to buy her mother in foal from Leslie-Serrano Ranch Calgary Area of Canada.  I hated the torment of even trying to look for a replacement riding partner. The scriptures above spell out God's word loud and clear. He has a plan and He will not forsake me. I just needed to take this day to grieve even though I had already been grieving for 5 weeks. It was the most difficult decision as I felt like I was killing a member of my family; yet, when I looked deep into her eyes I couldn't stomach seeing the pain she was in any longer with absolutely no hope of recovery.   I'm thankful that my husband and friends were there by my side even though it was just as difficult for them to watch the process too.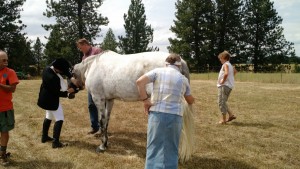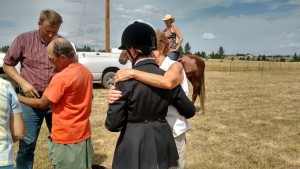 For the new readers, Jewels is featured many times in my medical blog posts with photos and videos throughout this website. She was my inspiration to work hard at recovering from my 12 orthopedic surgeries done in the last 4 years. She was a safe, very smooth ride and good for my body rehabilitation.
Here is Jewels featured as a 2 yr old winning a Sport Horse In Hand Class with myself handling her along with a trainer/friend Carol in July 2006. Besides the in hand shows when she was young, I only got to show her in one dressage schooling show and she did very well under saddle and everyone was impressed with her manners in the arena.  Her full potential was never realized in the showing circuit but that did not matter. I've had many prior years of showing during my earlier years with other horses.

Here is my final tribute photo taken with SRO JOYA PRECIOSA  and myself fully tacked up for the last time. My Double Reg. 3/4 Andalusian/Lusitano  and American Azteca mare born July 19th, 2004 at the ranch out of her dam:  Double Reg. 1/2 Andalusian/ American Azteca: Milagro De Joya and sired by  Reg. Brazilian PSL Lusitano Stallion: Maraja Do Retiro.  She grew to be a solid 16H horse grey horse. (Click on photo to enlarge)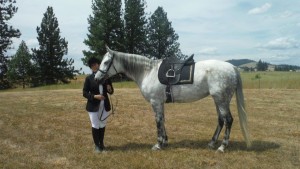 Precious Jewels was peacefully laid to rest July 25th, 2015 by Dr. Harper at end of pasture in front of the pictured trees on a gorgeous sunny day before the rain came in the evening.  Thank you Dr. Harper for coming to the ranch to set Jewels free from the weeks of pain and anguish we all suffered in together. I was comforted by your kind and sincere vet care that you gave to my horse. May she forever run free in Heaven's green pastures.

To my knowledge, she is still survived by her Dam and another half sister in Montana and her gelded sire in Calgary, Canada.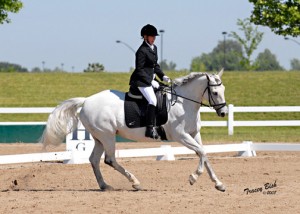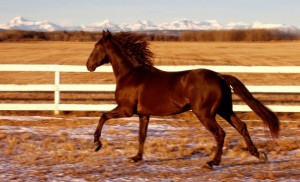 She is survived by her following half brothers and sisters (click on photos to enlarge):
She is also survived by her full brother that I bred and then I sold to Deb in Wyoming at 6 months old. Now he stands 17 hands tall at age 5 in this 2012 photo: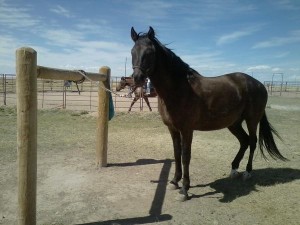 August 6th, 2015 – My sorrow and grief started to heal as I set my sights in finding another horse. After several weeks of searching, I was blessed by my dear friend/Classical Trainer in Spain, Johanna. She put me in contact with her friend in California. After speaking with Marjorie in CA, she made a contact in Bend, OR and lead me to the following horse that was not listed for sale anywhere that I had been looking; however, she was privately being offered for sale.  I found "Rough Diamond Fortula" a Reg. 1/2 Andalusian  7 yr old Bay Mare out of a Reg. Kiger Mare by a very nice Pure Spanish Andalusian Stallion "DW Companero". The owner, Samantha,  had compassion on my situation and she was willing to wait for me to come at the end of September to see her horse in person and get a vet check for purchase. God works in such wonderful ways in opening doors for us if we only just ask Him. I feel like Jewels is looking through the eyes of Fortula, beckoning me to come to her. Even though I learned to love grey colored horses, the Bay color of Fortula is my favorite.(Click on photos to enlarge)
Aug. 10th, 2015 – Right after this decision was made for the preliminary purchase on Fortula, our town along with many places in Idaho, Washington, Oregon were set ablaze by lightening strikes. Within 2 days the top of my hill was being breached by fire coming up on all the canyon sides burning with fire. Our small town of Kamiah, ID hit national news along with many other areas too.(Click on photos to enlarge)
At this point, I could thank God that I didn't have a horse at the moment in my pasture trying to figure out where to go with the horse when we evacuated our home temporarily. I also was starting a vacation with my sister coming from Ohio for 2 weeks. Our home was spared but regretfully a few of my neighbor's homes were not.  The fire was like the flames of Hell coming up our hill and most of our community prevailed against it up top, but there was mass devastation going down our hill towards our town.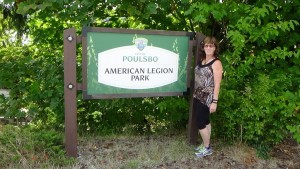 August 28th, 2015 – I am writing this blog while sitting in a hotel again in Silverdale, WA. I'm here doing what I do best, a medical vacation with surgery that just happened 2 days ago. In the meantime,  I am blessed with not smelling the horrible smoke, nor am I worried about a horse back at home.  My potential prospect is in Bend, OR being trained and prepared for me to meet her after 4 weeks of post-op recovery. My sister and I did have a wonderful time together despite the horrific fire conditions and she just left to get back to Ohio while I stayed on here in Silverdale.  Just today clouds and much needed rain has come through and Idaho is hoping to receive it too.
The emotional pain of losing a beloved riding partner that I had sown the last 11 yrs of my life into was a very heart wrenching grieving time this summer. I was feeling very hopeless for many weeks, then the joy of wanting to have a good vacation with my sister was overshadowed by the fires and smoke.  The charred hillsides became very depressing. Yet, this all gave way to a wonderful walk in a green forest with my sister, Marilyn, here on the Kitsap Peninsula the day before this last surgery. Now sitting here with my leg up and resting, I am happy to finally get this Tribute to Jewels blog done which is part of my letting go healing process.  I set my sights to physically healing again over next 4 weeks and then go to meet my new riding partner. With God nothing is impossible no matter how deep the despair may be. We always have a choice in the trial to choose to follow hard after God or be angry and bitter. Anger and bitterness will eat the soul, but choosing to trust in God brings hope and joy no matter what. For the Joy of the Lord is our Strength!
Thank you to all my subscribed readers and my Facebook group supporters. Your prayers have reached the heavens and are manifesting blessings upon me.  Please stay tuned for me in catching up on my medical blogs soon. Sincerely, Kim-author