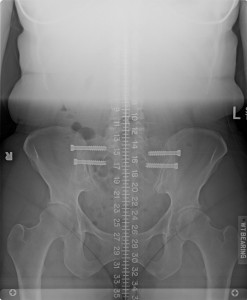 January 17th-2015 – This is the 2-year anniversary of having my Percutaneous Bi-lateral Sacroiliac (SI) Joint Fixation surgery with 4 Styker Asnis Titanium Cannulated Screws ( A screw with a hollow shaft and a low pullout strength compared to conventional screws, which can be placed with reasonable precision and minimal trauma using Kirscher ("K") wires.)  and no fusion of my  SI joints. My surgical procedure code was 27216-50 for my diagnosis code: 724.6-Disorders of the Sacrum. The surgery was performed for extra-articular (meaning outside of the joint) sacroiliac joint instability or dysfunction without evidence of sacroiliitis (inflammation of the SI Joint) and only mild bi-lateral  Degenerative Joint Disease (DJD) of the SI Joints per the pre-surgery CT Scan. There also was only mild increased tracer activity on the right at the L5-S1 disc level per pre-surgery bone scan.  My complete pre-surgery history is posted in Chronological Spine History of this website.
In essence per diagnostic imaging, I really didn't look like I had a problem. Imaging rules out other spine and hip issues; however, it was only through competent trained medical professionals of the chiropractic profession and physical therapy profession along with my Sports Medicine Doctors that truly diagnosed SI instability and its associated categories of Piriformis Syndrome and of Mal-alignment syndrome throughout my entire body. This was done by hands on palpations, checking for asymmetry of the SI Joints/pelvic boney landmarks, functional or dysfunctional body movement, muscle spring tests and whatever else manual therapists are trained to do. My personal SI Joint Physical Therapist, Vicki Sims, of Gainesville Physical Therapy did my pre-surgical physical therapy workup along with aligning my joints in the operating room on behalf of my surgeon, Dr. Weiss, prior to the fixation with the screws.
I credit my local physical therapist, Mark Bengtson, MPT at Pinnacle Physical Therapy of Post Falls, ID for his expertise in the Postural Restoration Institute style of exercises that has helped me these past 4 years in learning so much about what neutral pelvic alignment means and the consequences and connections to the rest of our body when it is not in alignment. Mark helped me to get the quality of life I now have in working with me post-surgically for all my surgeries. Besides Vicki Sims' website: www.sidysfunction.com there is another online resource regarding SI Dysfunction which is Jerry Hesch, PT-The Hesch Institute. Over the past 6 months, I  have come to know Mr. Hesch through our mutual participation on a Sacroiliac Joint Dysfunction Facebook Group. Here is a link to an excellent article by Jerry Hesch, PT: "Evaluating Sacroiliac Joint Play With Spring Tests" .
For new readers to my blogs, please see my homepage for the beginning of my entire medical journey as posted thus far. My last blog was posted in my Short Leg Syndrome Category of this website and here is link to my last SI Joint Blog posted a year ago. So where am I today? How am I doing with my Sacroiliac Joints?
(Click on the image above to enlarge) Objective Findings: This image was the most recent taken of my pelvis back on 10-28-14 during a limb length discrepancy x-ray study. The radiologist report findings are posted in this prior blog of my Short Leg Category. In essence it turned out that I was 4mm longer on my right leg than my left leg.  I can see for myself the very slight leaning towards my left pelvis as I was not using any lifts yet in my shoe. 4mm is minor yet a real difference to take into consideration in keeping my lumbar spine in neutral.  No change or increase in any DJD of either my SI Joints and/or hip joints. As far as I know, my screws are just fine in my pelvis; but the ones in my head may be a little loose after all I've been through which has included 9 weeks of NWB while healing a Talus fracture, 6 more surgeries to stabilize my lower extremity joints and weekly physical therapy for 2 full years since my SI Fixation Surgery.
February 8th, 2014 – I've been busy between the time I started this blog and now as I've been trying to recover from my last surgery done on 12/13/14 for my Left Gastroc Muscle lengthening. I will discuss those details in another blog coming soon to be posted in the Short Leg Syndrome Category. I did want to share that prior to this last surgery, I was working hard at getting the mal-alignment kinks out of my back with yoga during Sept-Dec. 2014. I was feeling very successful up until having to go non-weightbearing for 3 weeks. Now I'm 6 weeks out since that surgery and I can finally feel the benefits of two equal legs for the first time in over 12 years since the SI dysfunction and L5-S1 herniation took over my life in 2002. Prior to that I didn't even have a clue about the SI Dysfunction nor did I know I had a shorter bone length in one of my legs. I had lived what I thought was a normal active life up until the D-Day of somehow twisting my Left SI Joint and having a massive L5-S1 herniation.
I now can honestly say I don't have to see a chiropractor weekly any longer for my back for pain.  I see him to keep my spinal facets freely moving as I still deal with the prior compromised L4-S1 segments and associated ligaments with a little posterior shifting of these facets, a fixation and not full subluxation. I'm not in muscle spasms.  My massage lady doesn't even find kinks in my back muscles. The muscles are all soft and no sore spots. The myofascial sensory nerve pain into my thighs has diminished over this past year and especially as my walking gait is now improving.  I can sit up straight for hours and have no pain going up my back.  So since my last SI blog a year ago when I talked about Quadratus Lumborum pain, that has now ceased with my yoga exercise and the balance of even legs. I still have much more muscle balancing to do; but now that I can stand, I am beginning to walk a short distance with a much better quality of gait even with some post op lower leg pain. Honestly, this retraining process is very mentally exhausting. However, I am grateful no matter what not to be in my pre-surgery pain in my lower back, tight spasm back muscles up to my jaw, and the most horrendous burning nerve pain in both my legs that had drove me to research for answers.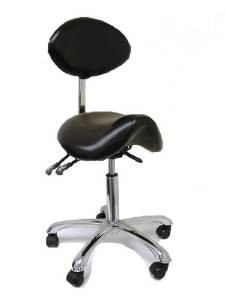 I bought a saddle seat style office chair over past 6 months and for me this helps me to continue sitting up straight just like I do when I'm in my saddle on my horse.  Here is a link to where I purchased the chair.  Here soon I will write a blog in my Piriformis Syndrome Category with a little more details pertaining to the glute muscles and how that is settling out too.
I've been busy these last 6 months with my patient advocacy work in helping many people that have contacted me through this website along with chatting in our SIJD Facebook Group. There is so much pain and suffering going on in this country and internationally regarding the SI Joint and all that goes with it. I had no idea because I never was on any chat before my surgery. There are successful lumbar fusions  that later on cause SI Joint problems and SI joint problems that simultaneously cause herniations of L4-5 and/or L5-S1 discs. Hips problems are also thrown into the mix.  Hypermobility of the SI joints is very common to which I could relate. Even with my joints now fixed, I still have plenty of back and general hip flexibility (but working on more internal rotation) and even more so now since surgery with the diminished muscle spasms. This chat group is a well-informed group of people and the group is blessed with many participating professionals sharing the best insight they can to suffering patients. Here are some other website resources: http://www.mysijd.com/
SIJD Foundation
Some good news for the Inland Northwest. My Dr. PZ Pearce of Spokane is evaluating patients I refer to him for SI Joint Dysfunction and he is connected to a surgeon in our region that will perform screw fixation without fusion based on his recommendation and referral to the surgeon. This would be somewhat similar to my experience across the country in Georgia.
I am extremely satisfied with my fixation without fusion but there is some discussion in the industry about relying on the screws to hold their position without loosening up too much or breaking. My providers in Georgia have years of experience with the screw fixation done with alignment in the operating room. They also have many years of post surgical history of stable screws for most patients. Regretfully, there are always some failures with any kind of surgery. Since my fixation, I have spent time reading and reviewing the animations of most of the other SI Fusion procedures offered in this country because not every patient is a candidate for a fixation only depending upon the severity of their situation. So for patients seeking a true fusion option, I have chosen to personally endorse the minimally invasive Zyga SImmetry SI Joint True Fusion surgical solution.  I now have a connection with the Northwest Business Development Manager for Zyga Technology, Inc.  and here is their website.  See Zyga.com Not every spine surgeon is familiar with or uses this technology of SI Fusion; however, the word and training is getting out across this country. I've received an update that Zyga has trained  both a neurosurgeon and orthopedic spine surgeon in Spokane that I know with the use of their fusion product.
Through all the past two years of lower extremity surgeries, my SI Fixation without Fusion has served me very well. I can only hope other patients would be helped in the same way with any method of fixation to their SI Joints that they so choose.  With out stable SI Joints, life was a living nightmare; and now, I've been experiencing 2 full years of stability. I am grateful to enjoy the wonderful fruit of God's divine inspiration, His help to keep me dedicated and working hard to finish the race set before me!

I hope to come back again to my SI Joint Category in the future, but in the meantime I will continue to write in my Short Leg Syndrome Category  as I continue my rehabilitation on my left lower leg post op Endoscopic Gastroc Recession. I've also just added a Patient Endorsement Corner page to my website to share your comments via emailing me through my Contact Page. See my SI-Instability Facebook Page
Link to next blog 3 yrs