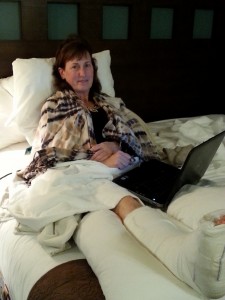 December 18th, 2015 – My favorite Christmas gift is to have surgery. I'm joking and serious at the same time. I really was looking forward to getting my right foot HyProCure Subtalar Joint Stent reduced in size just like my left foot had successfully been done back on Aug. 26th, 2015 as featured in this prior blog.  Along with this, throw in an ankle arthroscopic procedure at the same time. 2 for 1 is the way to go.  I had the same reduction in the HyProCure stent size #6 to a #5 done in my right subtalar joint to give me more normal pronation and less lateral column overload and stiffness in the foot which was negatively affecting my biomechanics up to my pelvis. Again please see my prior blog for more details on the same procedure done on my left foot. I won't repeat those here.
When I had discussed with Dr. Gent to consider doing an arthroscopic look into my increasing painful ankle at the same time he was going to do my HyProCure Stent downsize, he then ordered a CT Scan for further pre-surgical planning to compare to my prior MRI done almost 2 years ago on 2/24/2014. Back on Sept 29th, Dr. Gent had done one intra-articular diagnostic injection that was very positive when I responded with no pain for several hours from the Lidocaine numbing the joint. And when it wore off, I could still then point to the painful one and only spot of concern that my prior MRI had mentioned.
My MRI on 2/24/2014 had stated the following abnormal findings only: Small focus of subchondral edema along the anterolateral aspect of the distal tibial plafond with a focal grade 03/04 chondromalacia along the anterior and lateral margin of the distal tibial plafond with underlying marrow edema. Defect measures approx. 6mm in diameter.
 I had a CT Scan done on 11/15/15 with the following impression by radiologist: 1. New calcification abutting the anterior margin of the distal tibia at the tibiotalar joint measuring 5 X 3 mm in diameter. This was present on the MRI of 2/24/2014. This could represent a small osteochondral loose body versus spur or dystrophic calcification involving the joint capsule anteriorly. No joint effusion. 2. Specifically no talar osteochondral defect identified.
Here are the two CT Scan Images of concern that the radiologist referenced: (Click on Images to enlarge)
Rt Ankle Surgery Rept 12-18-15
I was grateful for the CT Scan as it did show my doctor and I the diagnostic information we needed to confirm the painful spot at the anterior-lateral edge of the tibial plafond of the ankle joint.
December 19th, 2015 – Basically an uneventful weekend at the hotel following surgery.  I did have more pain with both surgeries and did take some doses of pain medication for 3 days as compared to just the HyProCure Revision itself on my left foot back in August.  The ankle arthroscopy gave me pain not only at the exact bend of the joint but above the joint over the sensitive fascia covering the lateral fibula bone due to normal surgical trauma with swelling and bruising.
December 20th, 2015 – The weather outside had been raining every day and I certainly rested more than usual.  I had been so busy prior to coming on this medical trip with finishing up year end business obligations and Christmas Music events (as posted in my last Spiritual Blog)  that I was happy to just stay in bed. It really was a relief. This evening my husband wheeled me down to the pool. With my DryPro Cast Cover over my cast, I was enjoying swimming in the pool.
December 21st, 2015 – My 3 day post op follow up appointment with my surgeon, Dr. Gent, Kitstap Foot and Ankle Clinic, Bremerton/Port Orchards, Wa  Here are photos (click on photos to enlarge) taken of my ankle/foot when the surgical cast was removed. There was the normal amount of blood drainage from the arthroscopic part of the surgery which is more than just the HyProCure surgery by itself. My swelling was normal and not excessive.
Here is my YouTube Video of Dr. Gent discussing my Ankle Surgery and his findings. The good news is my ankle joint was otherwise very healthy with minimal synovitis in the area and no other damage noted and good cartilage everywhere except the exact spot during the arthroscopic evaluation. The PRP (Platelet Rich Plasma) injection with Thrombin was used to seal the bleeding bone after the removal of the Osteophyte:
I was so relieved to have this surgery now behind me.  Dr. Gent re-casted my lower leg in fiberglass then bi-valved the cast by cutting down each side with his cast saw and wrapped it with an ace wrap. This allows the cast to expand for swelling issues and to be taken off at home to do ROM exercise. The cast prevented my ankle from plantar flexing (toes pointing downward) which is painful to have happen after surgery as it pulls right across the incisions. I prefer casts over walking boots anytime and I have always found them to be more comfortable to sleep in and less bulky. Keeping the 90 degree bend of the ankle is important in the early days after this kind of surgery while being partially non weight bearing.  I just put a cast shoe boot over the cast and could hobble along on my crutches just fine.
We left his office and headed for the Seattle Airport in a rainstorm. Our flight was fine and when we landed in Spokane, we faced 6 inches of snow on our car and a blizzard making our normal 2 hour drive much longer to get home. Overall I did very well, but I was happy to hit the bed with my leg up.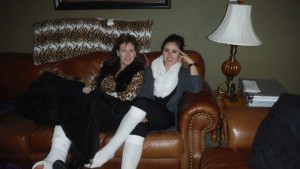 December 25th, 2015 – A joyous and peaceful Christmas holiday having my one and only daughter, Ally,  come home and prepare dinner with my husband for me. She lives 2 hrs away.  We are pictured here relaxing together with her white socks and my cast.
December 30th, 2015 – My first physical therapy appointment with Mark Bengtson, MPT  at Pinnacle Physical Therapy  He was so pleased with my healing thus far. By this point I had been putting more weight through my foot in the cast and even put my tennis shoe on for some walking with the crutches and stayed splinted at night. I declare this was not my doctor's exact post op protocol as he said partial weight-bearing for 3 weeks but doing physical therapy for ROM.  Well my ROM was already good and there was no pain with putting weight through my foot and I was off all pain meds 3 days after surgery. My therapist also knows I'm very careful and attentive to protect my ankle and foot.
December 31st, 2015 – A 2 week follow up appointment with my local foot DPM, Dr. Alm in Lewiston, ID. He took the stitches out of my ankle and foot incisions. Minimal swelling and normal bruising.  This evening was a quiet time at home watching some movies with my husband.
Happy New Year! With my ace wrapped lower leg/ankle, I was able to stand on my foot just fine in my tennis shoes without the crutches and be helpful in making a special New Year's day dinner. This blessed my husband because he had been doing so much for me since the surgery.
January 4th, 2016 – Dr. Gent, my surgeon called to check on me. Of course,  I confessed being ahead of his protocol. One of the reasons was that I could never use the knee scooter as it aggravated my right knee that I had just healed from with its prior injury as discussed in another blog.   I didn't like the crutch walking either due to it aggravating my compromised left wrist and elbow.  Since the foot/ankle were doing just fine with full weight bearing in an ace wrap, it came down to self preservation for the rest of me. So I just got on with walking!
January 5th, 2016 – Now almost 3 weeks since surgery, I was at my 2nd P/T appointment with Mark who is a Postural Restoration Institute trained therapist. After warming the lower leg and manual therapy, I did ROM with bands, sitting doing a wobble board ROM, standing stretches of gastroc/soleus and standing exercises for functional use of my entire body. I was able to walk slowly on the treadmill for 9 minutes. I've attached a PDF showing a picture and description of one of my exercises to work towards accomplishing. Single leg standing entitled: "Upright Thoracic Abduction with Contralateral Lower Extremity Abduction"
PRI Exercise Sheet
I left physical therapy feeling like I had accomplished a tremendous, good re-awakening and the ability to now use my entire body after the months of prior complications leading up this this surgery.
January 6th, 2016 – My husband had Knee Arthroscopy surgery this morning and I was on my feet all day taking care of him. I just needed to elevate and ice my ankle at bedtime.
January 9th, 2016– The last few days I'm walking a lot around the house and short walks outside. I have to help my husband because he has been off his leg for a few days resting his knee so he can go back to work. At my ranch house, I have flights of stars to go up and down. I'm very cautious going down and I slowly take my steps. Going up the stairs is no problem.
All in all, I want to close this blog at 3 weeks since my ankle arthroscopic surgery and subtalar joint stent removal and replacement of smaller size with saying how easy this surgery was for me. I offer up gratitude and thankfulness to my surgeon, Dr. Gent, for his surgical skill and care as there was not one complication to deal with, just the healing of normal post surgical trauma.  But I also want to say that for some patients when they have an ankle arthroscopic surgery, it does take longer to heal and feel less pain.
Some of the reasons I feel this surgery did better with less pain and the ability to walk sooner than my prior  left ankle arthroscopic surgery back in 2011 was because of the following: I already had an Arthrex TightRope Fixation in my high ankle-tibiofibular joint on this right ankle. However, that was not the case back in 2011 for the left ankle. The pain then was much greater in bending that left ankle compared to this right one due to the lack of stability at the tibiofibular part of the ankle joint. The left high ankle sprain that I suffered in Oct. 2010 was the leading reason for that surgery then to debride the left ankle joint because of the anterior lateral impingement. That was caused from a tear of the AITFL from the sprain; however, the syndesmosis disruption of the tibiofibular joint continued to further develop into more instability that was never fully diagnosed by my prior ankle surgeon. It wasn't until 2014 that an Arthrex TightRope Fixation was done by Dr. Gent in the high ankle that then gave me full relief from ankle pain. A second reason is the PRP injection into the ankle joint does release a concentration of platelets for helping regenerative healing. That was not done back in 2011. ABI Extracorporeal Autologous BioSolutions representative Julian Henslee provided the PRP services to my doctor and the surgical center for my surgery.
It is not always about obvious pathology i.e.–ligament tears, arthritis, tendonitis– the instability of the subtalar joint can play a role in creating havoc for the ankle joint itself even without adding more trauma to it. My left ankle was a combination of prior foot drop, one high ankle sprain and subtalar joint instability that also led to a talus fracture along the way. My right ankle had the one wear and tear spot from prior lateral ankle sprains and the subtalar joint instability that led to high ankle instability/tibiofibular joint issues. The HyProCure Stent into the subtalar joints of both of my feet were miracles for me and many others that I've talked to in this country and internationally.
All the planned surgeries are now done on my lower extremities. I will be going back to Dr. Gent for follow up appointments as I move forward with physical therapy to finish healing and getting stronger day by day. I will update this blog subject again in near future with the final healing outcomes.
Thanks again to my website subscribers and Facebook followers and to all those patients out there that come upon my blogs through Google searches on the subjects contained herein. Don't hesitate to drop a line or call, see contact page.
I close with saying the year 2015 was very successful which marked 5 full years of non-stop medical. I feel like I have met the goals that I originally set out to achieve in eliminating pain from head to toe. One of those goals will be written about in a new category discussing the Jaw-TMJ pain issues (pain in the head). My TMJ actually was the beginning pain project to get help for starting in May 2010. It had been simultaneously going on all these years while I've been doing everything else posted thus far. It took all these past 5 years to solve my problem and be pain free. It is finished now as of November 2015, and I will write those blogs as soon as I'm able.  Another project for 2016, is dealing with left elbow and wrist as I had some injuries to them along the way and they were finally fully diagnosed as of November 2015 and I'm in the planning stage for those surgeries to come. However, the rest of my body is very blessed and I'm thankful for a wonderful walking stride and I'll be working this year to build more strength. For new readers, please see my homepage for my entire medical journey written about thus far. I also have written about the personal side of life in the journey as shared in my Spiritual Journey section of this website.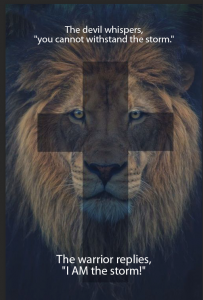 May you all have a blessed New Year in 2016!
From the patient advocate and warrior for health and healing,
Sincerely,
Kim-author