This blog is my personal and spiritual journey in dealing with life. From before Thanksgiving, I was busy baking Greek Baklava that is given out as annual thank you gifts for all our real estate agents that refer business to our Home Inspection Company. My dear friend, Cathy, and I make over 16 large pans of this pastry and I make sure I also have enough to share with my wonderful team of doctors too.  I was still doing weekly physical therapy for myself in healing my knee as referenced in this prior blog for the story on my knee injury.
During this first week of December,  I finished with directing our community choir that performed after practicing since mid-September.  We were small in number but united in spirit as we all enjoyed the music we were singing(I sang right along with my conducting).  For me personally, I could stand so much better than a year ago without having pain in my back or extremely sore feet. That in and of itself was a miracle. Here is our first song medley video from "The First Noel" Contada music book sung at our final performance:
Dec. 2nd, 2015 – Singing Karaoke at the Moose Club, "Amazing Grace" that is a well loved hymn by many of the members. I'm still pictured with a knee brace when I go out of the house, but the knee has been healing just fine.
Dec. 11th, 2015 – Having trust, faith and never giving up brings great joy to my soul amongst the challenging circumstances of my physical journey through this life on earth.  I am pictured here in a happy moment with my dear friend, Carol, who lost her husband of 40+years during this past year.  Her faith and joy is such a great example to me. I dearly love and honor her dedication to our Lord and Savior Jesus Christ for pressing onward and not giving up hope herself.
Here is a video of me singing: "Jesus, Oh What A Wonderful Child" arranged by Mark Hayes. This song was prepared for my annual Christmas vocal recital with the help of my vocal instructor, Nancy McIntosh.  Singing Christmas music is such a delight to my soul and while worshiping and honoring the reason for the season, Jesus, it takes me to my happy place of joy!
After leaving my recital, I was under siege with my mid back and upper lumbar spinal segments. It came upon me like an attack of some demonic force. I was only sitting in the car when it happened. The stiffness and pain was trying to steal my joy of completing all my wonderful worship music to the Lord.  I had to heat my back and stretch and lay on the floor just to be able to go out the door later to join my friend Carol at the annual Moose Club Christmas Dance with a band that plays 50-70's style music.  It was horrible for me to have a locked up back(which is not normal for me) and wanting to dance. Dancing is another happy place for me because I was a dancer in my late teen's and 20's.  I managed to barely enjoy some dances and then I went home to my infrared jade stone heating pad and hoped for a better next day.
Dec 12th-16th. 2015 – I spent this time preparing for traveling again to Bremerton, Wa for my anticipated right foot and ankle surgery. I had to finish office work along with having massage therapy, physical therapy and 3 chiropractic treatments during these days just to get back to  almost normal from the crazy lock up of my back.  Never take anything for granted as we certainly do not have our tomorrow's promised to us.
Dec. 17th, 2015 – My husband and I flew to Seattle via standby service as a benefit of my daughter working for Delta Airlines. Yes it is free, but stressful waiting to the last minute to see if you will be on a flight or not with an available seat.  We both made it out, but we were split up and on different flights to get to Seattle from Spokane. Seeing my foot and ankle specialist, Dr. Gent, at the end of this day in preparation for surgery was a great relief.  I so wanted to be done with my lower leg/ankle/feet surgeries and be walking good once and for all. My anxiety level was off the charts with pain and stress in my stomach with constant burping.   I didn't want to face being laid up again, yet I didn't want to continue on without the surgery. I had spent the last 4 months struggling every since my last foot surgery stent was reduced on Aug 26th. The change in my left foot felt wonderful but it also had a profound negative affect in my gait cycle with my other leg and caused so much tension up into my sacroiliac ligaments. See this prior blog on the subject.  And then my low back giving out (not the SI joints, as they are good) before this trip. I just wanted to constantly cry which really isn't a bad thing. I call it my stress relief valve to get out the boiling over steam within me.  Dr. Gent, with his gracious and kind patient care to listen and hear me share all my concerns, helped me to feel that I would be okay and he encouraged me to take some Valium to relax from all the preparations and travel getting me to this point, the night before surgery. Dr. Gent knows that I normally hate taking any kind of medication and I fight hard against it; but this time around, Dr. Gent was right in telling me to please take some. He has been an integral part of my medical journey for over 2 years now and he knows me well.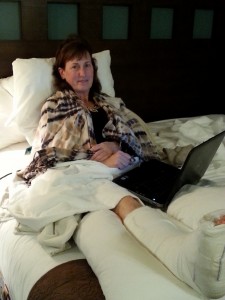 Dec. 18th, 2015 – I was definitely relaxed and hung over from the Valium and the surgery went just fine and better than expected for me. The surgical details will be discussed in my next medical blog.  In the meantime, now that the surgery was over, I was feeling better and the anxiety and fear had calmed down and my stomach was more settled.  I was very relaxed at my favorite hotel, Oxford Suites in Silverdale, WA. My husband was enjoying some football games on the TV and he was also relaxing from his busy work schedule too.
I will rehab again which I'm well experienced with whether I like it or not. To be honest, I am exhausted from post-surgery rehabilitation. It is the goal and prize of finishing this physical race that keeps me from falling down on the sidelines even though my mind would love to escape with drugs. Drugs are not the answer.  I will not give up on myself nor for other patients in similar situations.
Even though the day of the Christmas Holiday is approaching, for me having Christ Jesus in my heart brings me Christmas everyday of the year. Sufferings and glory are a regular part of my walk here on earth. I have learned and continue to learn to accept the sufferings which then brings the warrior out of me to fight the good fight of faith to heal and get back to the good times of life. I have also learned to have so much compassion for others suffering too in similar physical situations. I have accepted this journey and to rejoice in it to God's Glory!

I reflect on the following passage of scriptures: I Peter 4: 12-14  "…..12Beloved, do not be surprised at the fiery ordeal among you, which comes upon you for your testing, as though some strange thing were happening to you; 13but to the degree that you share the sufferings of Christ, keep on rejoicing, so that also at the revelation of His glory you may rejoice with exultation. 14If you are reviled for the name of Christ, you are blessed, because the Spirit of glory and of God rests on you.…"
I know that I am blessed, but it doesn't  mean life gives happy feelings every moment of the day. I have to choose to find the joy and happiness in all circumstances and I have many days too that I surely don't feel much success with.  But there is always hope for a new day!
I love to hear from anyone that reads my blogs. Please see my contact page to reach me. For those new to my blogs, here is link to my homepage. I also have a Facebook Page
Merry Christmas To All and a Happy New Year for 2016