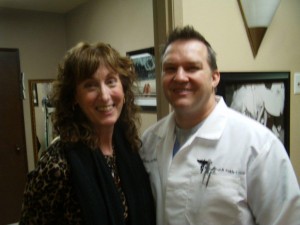 My surgical incision from my HyProCure Surgery – Subtalar Joint Stabilization done on 11-15-13 was well healed and my stitches were removed by Dr. PZ Pearce, Champion Sports Medicine in Spokane, WA  on 11-26-13.  See my prior blog for the surgical incision photo. By the request of my surgeon, Dr. Gent,  Dr. Pearce  also did a Celestone Cortisone Injection into the Sinus Tarsi right above my incision to help reduce internal inflammation and to make it easier to be more aggressive with doing my physical therapy.
12-2-13 – On this day I made the following YouTube Video showing me walking and discussing how I was doing:
During this week, I had to be on my foot a lot due to our annual Christmas Contada Music performances for 3 days. I really did not have time to relax and take it easy on my foot like I would really recommend to other patients.  Since I had already been off of my foot for over 2 months due to the prior fracture healing process, my life was so far behind schedule that I did not have a moment to spare by laying around with my foot elevated.  Also during this time of the year is my annual baking season of thank you gifts for our business and that required more time standing in the kitchen too.  Dr. Gent said that I would not hurt the surgery itself in my foot by standing on it, but that it would let me know when enough was enough as it simply would be more swollen with increased pain.
My patient to patient advice: try to plan this surgery when you can take time to slow down from your normal routine for at least 4 to 6  weeks. It would be much easier and less painful! My plan was to have done this surgery 2 months earlier but the mysterious Talus fracture delayed my plans.

I only had  a chance for 3 physical therapy appointments before leaving again to see Dr. Gent for followup. Each appointment gave me an increase in my ROM and helped me to walk better and/or longer before pain would set in.  I left on 12-15-13 for Seattle and I had a beautiful day of airline travel after a prior week of extremely cold weather and problems with pipes freezing at my house.  I was glad to get away for a few days from the face pace I had to be in because of getting ready for Christmas. After my first night in Seattle with close friends, I took the ferry back over to Bremerton and treated myself to a stress relieving facial and massage at the Seaport Salon and Spa in Silverdale, WA not to far from Dr. Gent's Office. I spent the night in the town of Poulsbo, WA where I had stayed before for the surgery and this time around I enjoyed walking through the quaint shops of that town. Poulsbo has a famous Scandinavian bakery called Sluy's Bakery that has the most delightful pastries and breads.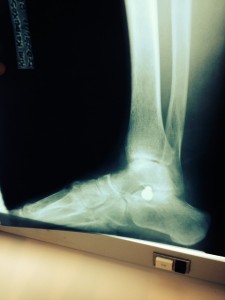 12-17-13 – I was so happy to now be at Dr. Gent's office as shown in the photo at beginning of this blog. (Dr. Gent and I were laughing at the fact that after 3 years I was done with orthodontic braces on my teeth and he was still in the process with his teeth and this is my first photo without them.) This follow up appointment  was a part of his post surgical protocol that he requested I come to see him even though I was out of town.   It was important for him to x-ray my foot and see that the stent was maintained in its correct placement without shifting. Here is a photographed copy of that x-ray film of my left foot.(Click on photo to enlarge)  He confirmed that the stent was just fine and my Talus/Calcaneus bone alignment was well maintained.  The first 4 weeks after this surgery is a very important time of healing. The ligament/soft tissues within the Sinus Tarsi Canal reattach over the stent to ultimately help hold it in place. During this time it is critical that no extreme medial or lateral twisting of the ankle take place while this healing process is occurring. Walking on the foot with dorsi-flexion and plantar flexion is of course okay.
Some positive thoughts about how I was feeling thus far that I shared with Dr. Gent: I was having less Achilles pain on lateral hindfoot, foot stays in same position,  a great inner sense that I no longer needed an adjustment of my Talus bone and that my Medial side of Achilles seems to be working more now along with the lateral side that had been working too much in the prior chronically malalignment of the Talus over Calcaneus bone.  Now that I was walking again with new biomechanics of my left  foot/ankle, I noticed a positive change in that I was not having as much medial/inner thigh burning nerve pain that has been chronically intermittent this past year. I shared that I had an internal sense that another piece of the puzzle is figured out; however, I was even more keenly aware that my right side foot/leg is obviously more pronounced on its excessive flexibility.
I told Dr. Gent that I had also visited with  the Lewiston foot doctor,  Dr. Alm  on 12-5-13 to let him see me after this surgery since he was so gracious to help me with the prior last cast of my foot before leaving for the Seattle Surgery. Dr. Alm commented on the less severity of the plantar flexed first ray and the less overload on fifth toe (less callous) and he  could see the excellent results of the rear foot alignment. Dr. Alm recommended that I have Dr. Gent do the surgery on my right foot also in the near future.   Dr. Alm  had told me awhile back that he did not like traditional Subtalar arthroereisis surgery which is intended to assist in treating the hyperpronated foot by stabilizing the subtalar joint. It is intended to block forward, downward, and medial displacement of the talus, thereby limiting excessive eversion of the hindfoot. Dr. Alm was also not aware of this HyProCure stent surgery prior to my case; however, now that he saw me at 3 weeks post-op of my HyProCure surgery, he suggested that he would investigate this surgical procedure further as a possible ongoing educational training for himself and for future patients.  His kind remarks made me feel quite honored and validated for all my hard efforts(thanks to the internet and all the other websites) to find a solution for myself. Now through my blog stories, I am also able to fulfill my desire in freely giving back to the internet to help other patients too.
 Here is an excellent article explaining the differences in the Subtalar Arthroereisis implants and their function  in Podiatry Today by Author(s):Michael E. Graham, DPM, FACFAS entitled and linked here:  "Dispelling The Misconceptions About Subtalar Arthroereisis" Here is the photo (click photo to enlarge) from his article showing the difference between other types of implants and the HyProCure stent on the right. In my prior blog Dr. Gent demonstrates on my video the insertion of the stent on his foot skeleton. I give readers information on Dr. Graham, the author above and the inventor of the HyProCure Stent, in my Subtalar Joint Instability Blog.
It is my patient to patient advice that you read the above referenced article and also understand that some nationwide insurances I found do not cover Subtalar Arthroereisis implants as they are considered investigational/experimental; however, the HyProCure stent is classified differently and was covered by my insurance and billed by  surgical procedure code 28585.
Here are some questions I asked of Dr. Gent and his answers:
1. Visually, how does my foot look to you today? great
2. Do most people get the second foot done? If so, could they feel the difference in their gait, hips and want to feel more balanced by getting the second foot done?-he answered yes to these questions
3. If you are walking heavy on the outside of foot and increased pain/pressure near scar, is this a sign that you are not walking over your foot correctly?  his answer-Walk with push off at base of big toe to 2nd toe (you will naturally walk more on the lateral-outside of your foot as you will not collapse in your arch, but your foot still finishes off with the pushing off from base of big toe)
4. Regarding the midfoot and forefoot bones, can the chiropractor mobilize/palpate and adjust if he feels it is needed especially since my foot had been in a cast for 9 weeks?  his answer – Yes mobilization can be done and I would encourage it so the ligaments work better
5.  Have you worked with avid runners and what are their results in getting back to running? his answer -2 preferably 3 months for runners to be back to avid running
6. Can you estimate how many HyProCure surgeries that you have performed so far? 60 surgeries and he said he likes to also help young patients with excessive flexibility before they end up with bunions and other foot problems with this HyProCure Surgery
After leaving Bremerton, I enjoyed a night of celebration with good friends at the  Bellevue Square Mall and the Cheesecake Factory Restaurant  to wrap up my stay in the Seattle area.  Time to get back to Idaho and ready for  the Christmas holiday.
I close this blog with saying that I still have a lot  of rehabilitation to do as I am dealing with more than just the HyProCure post op symptoms. I'm dealing with retraining my walking again and strengthening the muscles of the leg that were weak from being non weight-bearing and in casts these past months.  I feel very hopeful and will update again soon on my progress. Here is link to my next update blog.
Stay tuned! Or just subscribe to this blog (right sidebar) to receive automatic updates whenever I post a blog story about my medical and spiritual journey.