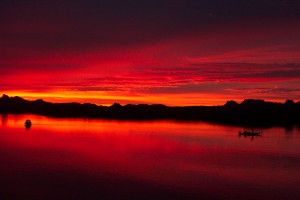 The definition of a sojourn is a temporary visit or stay, a brief period of residence.
I consider myself a Sojourner, one that is passing through the SI  journey. My brief  -in God's view of timing-period of residence in the the SI Dysfunction of 10+ years is now over.  I have passed through the Red Sea and the yoke and bondage of Egypt is no longer on my shoulders both physically and figuratively speaking. I am walking into the Promised Land!
The Photo above speaks to me of God's glorious/radiant calm that I now have following my SI Fixation Surgery. I have renewed strength to carry on the rest of His journey in my life!
In a Google search of  the words, "a medical sojourner", I came across the website for a Dr. Heather Sojourner, MD 
Not only did I find  Dr. Heather's last name interesting, but in looking at her website I do hereby directly quote the first paragraph of her Biography (the Bold type is my highlighting some key words) from her Biography page
"Dr. Heather
Sojourner
is a unique combination of southern sensibility and dedication. Her trademarks of care are her thoroughness, attention to detail and down to earth personality. She has a full spectrum practice (excluding OB) with an emphasis on adolescent medicine, women's health, hormone therapy, preventative medicine and essential chronic disease management. She is determined to create a patient-centered medical practice
where she assists patients in their medical journey
by providing appropriate guidance, knowledge and organizational support."  
I was utterly moved at how her story and her last name "Sojourner" echos the theme of this blog page.  If I lived in the Salt Lake City, UT area where her office is located, I certainly would be calling up and making an appointment. For those out there in the internet world, this doctor's biography echos my heart in what a medical doctor should be to a patient.
I am seeking to publish at my discretion on this blog page Fellow Sojourner's stories. I am not looking for professional writers as I am certainly not one myself; Either provide me links your blogs or I'd be happy to help write your story pertaining to the subjects of this website such as the following:
Thank you for taking the time in reading my website. Looking forward to hearing from Fellow Sojourners to fill this page with your stories. The more information we all can provide on the internet to help other patients is my goal!
Use the link below if you're ready to share your story: