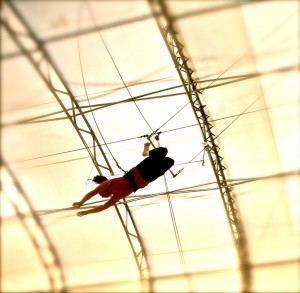 Today I had a phone interview with Christy- a physical therapist by profession herself in the Seattle, WA  area. She is a Fellow SoJourner of Sacroiliac Joint Dysfunction (SIJD). She agreed that she has left behind SIJD and is moving ahead in life across the Red Sea. However, she acknowledges that while being in the new promised land, there are still some physical giants to be slain.  Here is a link to her blog post regarding the photo of her to the left. We spent over an hour together on the phone and we are working on linking our sites together in order to help as many fellow sojourners as possible navigate through the sea of SI Instability and Dysfunction. Christy was such a pleasure to talk to regarding what she has been through. I encourage my readers to go to her site as she is farther down the road of recovery than myself.  However, I will say she has even suffered more than myself at such a young age in her late 20's. We shared similar symptoms in the years leading up to surgery. Her surgery was a little different than mine in the fact that she had  bi-lateral surgery with percutaneous cannulated screws on her left SI joint and the I-Fuse on her right SI Joint. She shared the same surgical team as myself in Gainesville, GA.  Christy, I thank you for directly sharing with me and authorizing the use of your story on my website.  My heartfelt prayers will continue to be there for you as your journey continues in the promised land.  – Kim, author
Update July 2014 : Christy 3 years since her SI Surgery, here is link to her update blog.
Sept. 12, 2015: I was able to meet Christy face to face for the first time in Seattle and enjoy lunch together. Here is her last blog post update 4 yrs since her SI Surgery. I enjoyed learning about her hip issues and how well she is maintaining herself all the while working as a busy Pediatric Physical Therapist.