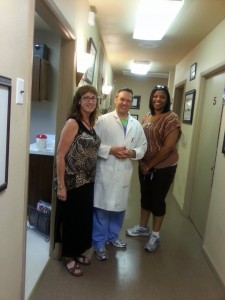 What are the chances that you get to meet face to face a patient that read your blog and decided to get the same help from the same doctor regarding their feet? Well, on September 11th, 2014 I was in Dr. Gent's office at Kitsap Foot and Ankle Clinic, in Bremerton, WA for my follow up appointment as discussed in this prior blog post entitled:"Post High Ankle Sprain-Tib-Fib Surgery-Great to be Walking again 5-10 weeks recovery update"
When I came out by the front desk, this lovely woman looked at me and said: " I know you. I've read your blogs and I came to Dr. Gent for the HyProCure Surgery for myself." She went on to say how she traveled over from Seattle to get the help she needed for her feet. Good things happen in smaller towns, not just the big city!  She was feeling hopeless and began researching options regarding severe pronation and its associated symptoms such as Posterior Tibial Tendon Dysfunction when she came upon my blogs. She is now several months post op of her first HyProCure Surgery on her left foot and still on the path of healing when she came in to see Dr. Gent for follow up.
I had tears of great joy knowing that another patient's life was touched for the better.  That is why I write my stories!  I believe wholeheartedly in this surgery and its far reaching benefits to help others. Of all my surgeries (see homepage), this HyProCure is so minimally invasive with only a small amount of downtime for most patients; yet it produces life changing results and helps to prevent further damage to the feet let alone the compensating damage up the entire body due to excessive pronation. For new readers, here is link to the beginning of my HyProCure Surgical Blogs and recovery updates.
A debt of gratitude goes to GraMedica Corporation and its founder/inventor Dr. Michael E. Graham for this patented HyProCure the Extra-osseous Talotarsal Stabilization (EOTTS)  Dr. Gent was trained and has achieved a Master Surgeon rating from GraMedica to do the HyProCure Surgical Procedure. Not all foot doctors are created equal. My own experience taught me that many foot and ankle specialists do not do the procedure; therefore, those doctors wouldn't even know to recommend it to a patient. Many patients continue to suffer until the day they are faced with rearfoot reconstruction surgery.  I've heard this story many times over. Because of my blog, I've been blessed to talk with other patients throughout this country and a patient in India. It brings me great joy to advocate for this surgery.  In my quest to help another patient, I also had the privilege of talking to Dr. Paul Clint Jones, DPM  located in Clackamas, a suburb of Portland.  A small world, as Dr. Jones and I were conversing, I found out that he was a HyProCure Surgical trainer for Dr. Gent.
Dr. Gent not only believes in the benefit of this surgery, he has many cases to prove its success! Besides helping older people that have already suffered secondary symptoms because of the excessive pronation, Dr. Gent also desires to help adolescents achieve more stable feet preventing further damage while they are still young.  I drove 8 hours one way to get the help I needed and I can only hope that this blog reaches more patients via the internet. Without God and Google, I wouldn't be here writing my stories!
PAY IT FORWARD—Thanks Dr. Gent: I will take the support I have had and try to pay it forward whenever I can!  Thanks Chekele for the photograph and my your life touch others too with the knowledge you now have regarding the HyProCure Solution!